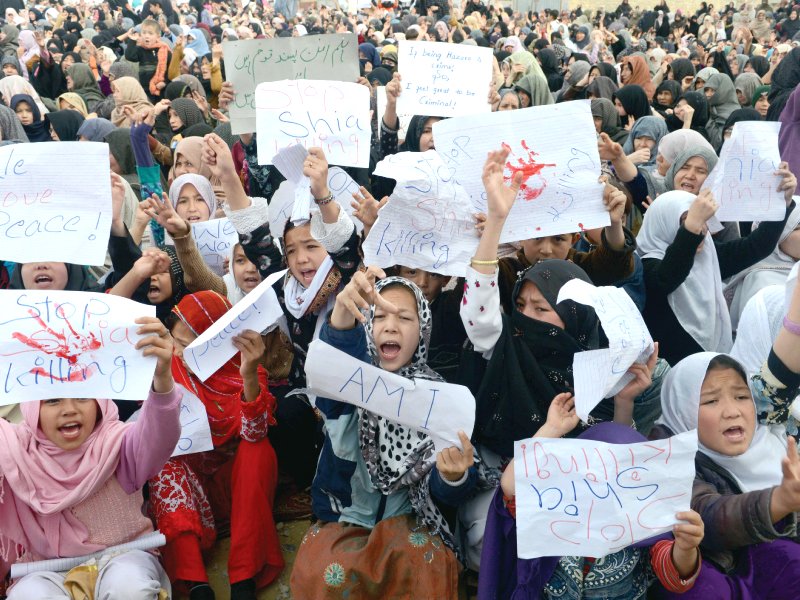 ---
KARACHI:



Protestors poured out on the streets of major cities across the nation to express solidarity with the Shia Hazaras in Quetta following a second attack within weeks on their community, which left over 80 dead.




The streets of the country's biggest city and commercial hub Karachi wore a deserted look as Protesters blocked highways and railway tracks during the shutter-down and wheel-jam strike on Monday.

Tension escalated further when three men belonging to the Ahle Sunnat Wal Jamaat (ASWJ) were shot dead in the Patel Para locality Monday evening. Police said two armed men riding a motorcycle opened fire on the victims.

ASWJ spokesman Maulana Akbar Farooqui claimed that the incident took place when participants of a Shia protest attacked and opened fire on a mosque, killing three of his party workers.

Following the incident, scores of people set fire to tires on the road and blocked the flow of traffic. The protesters also attacked law enforcers with petrol bombs and heavy weaponry.

Protest rallies were held in about 28 different points, including,  Nazimabad, Guru Mandir, Gulshan-e-Iqbal and MA.Jinnah Road, among others.

The police also resorted to tear gas and baton-charge at some of the rallies, after clashes broke out between them and the protestors. Some eight vehicles were also set on fire. Rangers and police also claimed to have detained more than three dozen suspects.

Meanwhile, supporters also took to the streets in Thatta, Hyderabad, Jamshoro, Matiari, Benazirabad, Pannu Aqil, Shikarpur, Jacobabad, Kashmore, Kandhkot, Khairpur and Larkana districts.

Islamabad

In Islamabad, activists of the Majlis Wahdatul Muslimeen (MWM) and the Milli Yakjehti Council, along with local residents, staged a sit-in on the Islamabad Express Way on Monday to protest the attacks on the Shia Hazara community in Quetta.

The protestors threw stones and bricks on billboards and traffic signals against the government for its failure to arrest those involved in what they termed the 'genocide' of the Hazara community.

They said they would continue the sit-in till the demands of the Hazara community in Quetta were met.

Peshawar

Expressing solidarity with the Hazara community in Quetta, scores of Shia organisations held a protest rally at the Qissa Khuwani bazaar in Peshawar on Monday.

Around 300 protesters, including women, began marching from Mohalla Marvia'n culminated at Qissa Khuwani Bazaar. They chanted slogans demanding the government to provide them security. They also called for the demands of the Quetta protestors to be met.

Lahore

In Lahore, the murder of a prominent Shia doctor and his son in an apparent targeted killing fuelled the anger of hundreds of protesters at a sit-in outside the Governor's House in Lahore, organised by the Majlis-i-Wahdat-i-Muslimeen (MWM).

The MWM issued an eight-point agenda demanding a greater army role in security matters in Balochistan and action against Lashkar-e-Jhangvi. (with additonal input from our correspondents in islamabad, peshawar and lahore)

The deadliest attacks on Shias in Pakistan since 2009

February 5

35 people are killed in a suicide bombing near a Shia mosque in Dera Ghazi Khan

February 20

At least 30 are killed in a suicide attack targeting the funeral of an assassinated Shia leader in Dera Ismail Khan

December 28

At least 43 are killed in a suicide attack on a procession of Shias in Karachi

February 5

33 are killed in a double attack in Karachi. A bomb explodes near a bus stand in a Shia populated area, followed by a second blast at a hospital treating the wounded

September 1

At least 31 are killed in a triple suicide attack targeting a Shia procession in Lahore

September 3

59 are killed in a suicide attack targeting a Shia rally in the southwestern city of Quetta

February 17

A suicide bomber on a motorbike kills 31 people near a Shia mosque in Parachinar in the tribal zone on the Afghan border

January 10

A double suicide attack on a snooker club kills 92 in a Hazara neighbourhood of Quetta

February 16

A bomb at a market in Hazara Town, a Shia neighbourhood in the suburbs of Quetta, kills 89

Published in The Express Tribune, February 19th, 2013.
COMMENTS
Comments are moderated and generally will be posted if they are on-topic and not abusive.
For more information, please see our Comments FAQ