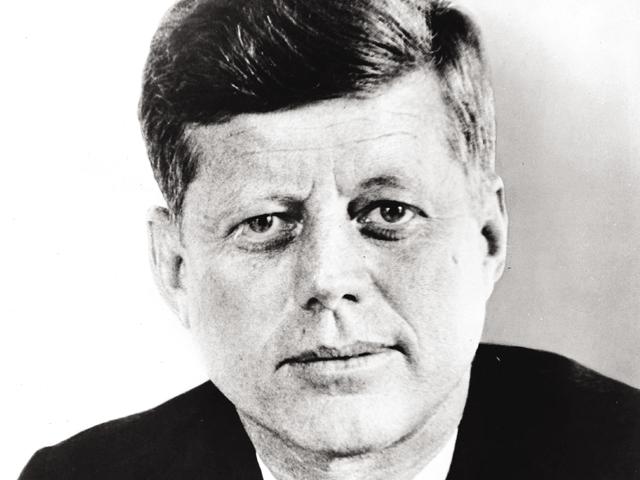 ---
CAMBRIDGE: President John F Kennedy's Air Force One bomber jacket sold for $570,000 at an auction on Sunday of items that belonged to a longtime aide, nearly 50 years after the president's assassination.

The jacket was among thousands of items, including letters, photographs and books, that had been tucked away in drawers and file cabinets at the home of David Powers, who died in 1998, said Dan Meader, auction appraiser at John McInnis Auctioneers.

They were discovered in recent years by relatives as they prepared Powers' Arlington, Massachusetts, residence for sale, Meader said.

Powers was close to the president throughout his political career, from 1946 until his assassination in 1963. He later remained close to the Kennedy family and became curator of the John F Kennedy Presidential Library and Museum in Boston before retiring in 1994.

The auction included personal effects that reflected Powers' years of shared history with Kennedy and his family. Among them are dozens of letters from former first lady Jackie Kennedy and books inscribed by the president.

"The amazing thing about this whole thing is that it shows the personal connection," Meader said. "This is stuff that's true, it's pure, it's right from the family home, right from the president's best friend."

The auction began on Sunday morning and continued into the night, with Kennedy's Air Force One leather bomber jacket selling for $570,000 plus a buyer's premium, he said. The jacket was initially expected to fetch $20,000 to $40,000 or more.

"There's never been an auction like this," Meader said, adding that the auction was taking a long time and would likely continue until late at night.

Also among the items to be sold was a schedule kept by Powers that documented in minute detail his last two days with Kennedy in San Antonio and Dallas, Texas, before the Nov 22, 1963, assassination.

A pen JFK used to sign an interdiction order during the Cuban missile crisis also was scheduled to be up for auction.

Powers traveled with Kennedy, riding in motorcades, monitoring the reaction of crowds and informing the president of what his constituents wanted, Meader said.

"He was basically the eyes and ears of the American public," he said. "Dave was the pulse of the nation."
COMMENTS
Comments are moderated and generally will be posted if they are on-topic and not abusive.
For more information, please see our Comments FAQ