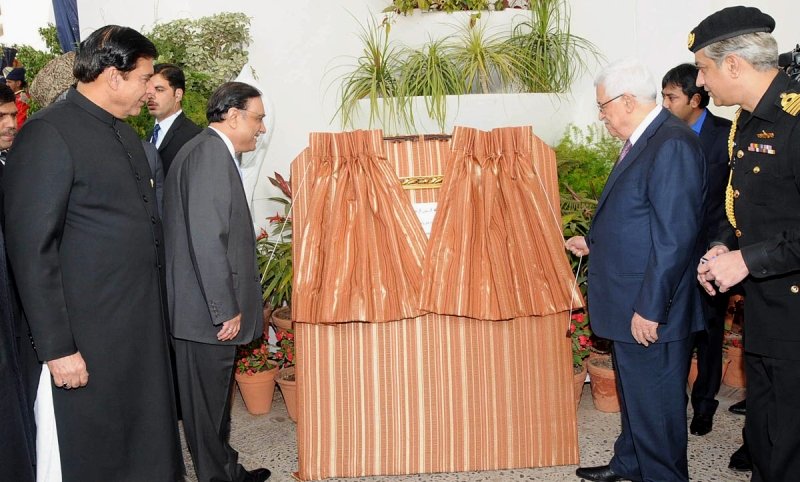 ---
ISLAMABAD:



Criticising Western nations for "turning a blind eye towards the atrocities of Israeli forces", Pakistan on Sunday warned that new "illegal settlements" being built by Tel Aviv in the Palestinian territory would deal a "death blow" to the proposed two-state solution.




Speaking at a luncheon meeting with visiting Palestinian leader Mahmoud Abbas, President Asif Ali Zardari urged the international community to stop Israel from building "illegal settlements in the occupied territory".

"It is the saddest day that champions of justice and human rights do nothing but watch," Zardari said referring to the West, particularly the United States, for supporting Israel despite the Jewish state's building of illegal settlements in east and south of Jerusalem.

The president termed Tel Aviv's complete disregard for international law a "slap in the face of the international community".

Zardari reaffirmed Pakistan's "unwavering support" to the Palestinian people till the establishment of an independent Palestinian state with Al Quds Al Sharif as its capital.

Expressing his joy over recognition of Palestine as a non-member observer state by the UN, Zardari hoped that it would prove to be a major stepping stone to Palestine's full membership of the UN.

He denounced Israel for its opposition to the non-member observer state status for Palestine and voiced concerns over "mocking of the UN by Israel".

In his address, Palestine President Mahmoud Abbas thanked Pakistan for supporting Palestine to win recognition of non-member status by the United Nations. He urged Israel to stop illegal settlements and end occupation of Palestinian land for peace and security in the region.

Abbas said Palestinians were ready to give peace a chance despite Israeli atrocities. "We reiterate that our priority is to continue working hard and relentlessly to achieve our right to freedom and independence ending the accumulating suffering of our refugees through 65 years of homelessness," he added.

The two leaders held detailed discussions on bilateral relations and regional and international issues of mutual interests.

Earlier, on his arrival at the Presidency, President Abbas was received by President Asif Zardari and Premier Raja Pervaiz Ashraf.

The two leaders also unveiled the plaque of the foundation of the Embassy of the state of Palestine in Islamabad.

Joint commission

Pakistan and Palestine also agreed to set up a joint ministerial commission to expand the existing political cooperation into other areas, including economy, agriculture, banking, education and social and cultural sectors.

The joint commission, to be headed by the foreign ministers of the two countries, would begin its work soon, presidential spokesperson Senator Farhatullah Babar said in a statement. He added that the president offered a grant of $1 million for construction of Palestine's Embassy in Islamabad.

Published in The Express Tribune, February 18th, 2013.