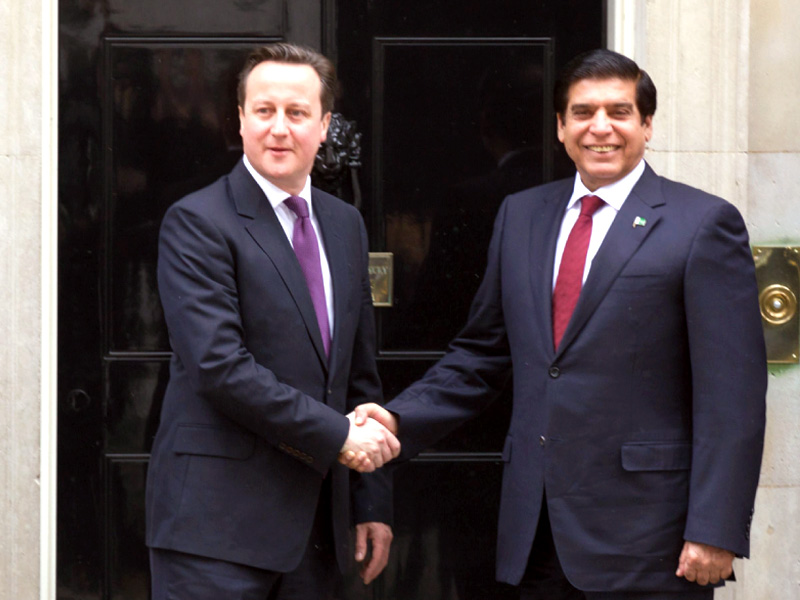 ---
LONDON:



In an unusual show of warmth in his country's relation with Pakistan, British Prime Minister David Cameron told his Pakistani counterpart on Monday, "your friends are our friends, and your enemies are our enemies."




Speaking to journalists after a meeting at 10 Downing Street, Cameron also spoke about the rollercoaster relationship between Pakistan and India, saying "there was a need [for the two nations] to open up the market to harvest economic bonuses".

About the Afghan conundrum, Cameron hailed the recent trilateral summit in London where he, President Asif Ali Zardari and Afghan leader Hamid Karzai renewed the call for ultraorthodox Taliban militia to renounce violence and come to the negotiating table.

Pakistan has a pivotal and constructive role to play in the region, the British premier said, adding that he would visit Islamabad this summer to carry the process forward.

The two premiers discussed Pakistan-Britain bilateral relations, the withdrawal of Nato troops from Afghanistan by 2014 and relations between Pakistan and India. Matters of national and international importance also figured at the talks.

Appreciating his British counterpart's efforts on working for a peaceful transition in Afghanistan, PM Ashraf reiterated that a peaceful and stable neighbour was in his country's interests.




Islamabad, he said, was working closely with the Afghan High Peace Council so that all stakeholders, including the Afghan Taliban were on board to bring durable peace to the war-torn country.

He stressed the need to train and equip Afghan security forces during the transition period to handle the responsibility of maintaining security.

Expressing satisfaction over bilateral relations between the two countries, Premiers Ashraf and Cameron said they were looking forward to enhancing cooperation in various fields, particularly for the Afghan transition.

The Pakistani premier also briefed Cameron on the investment opportunities available in Pakistan and the economic reforms and policies initiated by his government to attract investors.

Ashraf also thanked the British premier for his country's support in helping Pakistan secure the Generalised System of Preferences (GSP) Plus status from the European Union and said it had proved it to be a true friend and ally of Pakistan.

GSP is a trade programme designed to promote economic growth in the developing world by providing preferential duty-free entry for up to 4,800 products from 129 designated beneficiary countries and territories.

Published in The Express Tribune, February 13th, 2013.