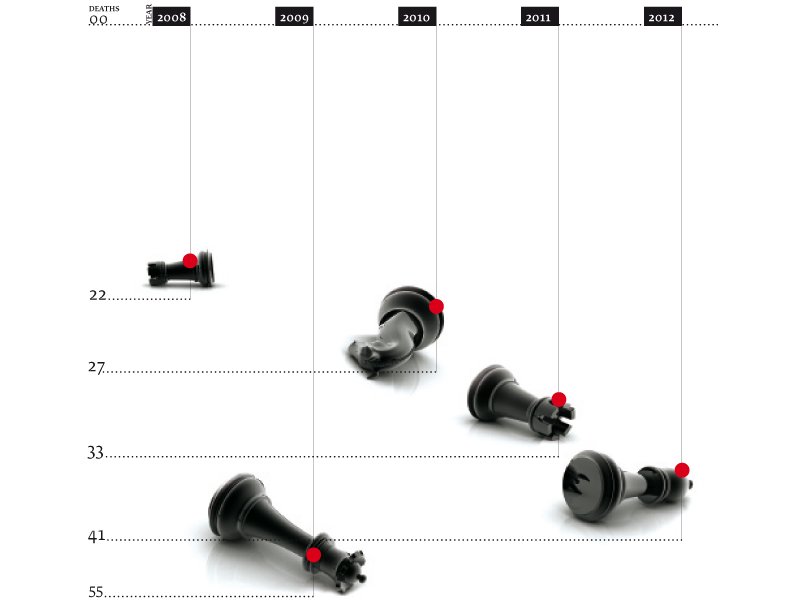 ---
PESHAWAR:



The Peshawar police has lost a total of 178 personnel in the ongoing war on terror during the last five years. Funeral prayers for all these personnel have been held at the Peshawar Police Lines with guards of honour – their bodies wrapped in the national flag then handed over to families for burial in their respective ancestral graveyards.




Peshawar Police Lines was established in 1890, but it has seen more martyrs in this short span than in its entire existence.

It was later renamed Malik Saad Shaheed Lines in honour of former capital city police officer (CCPO) Malik Saad, who was killed in a suicide bomb attack in January 2007.

The lawn, a witness to the many sacrifices it has seen over the years, wears a sad but graceful silence. It saw Sifwat Ghayoor, as CCPO Peshawar, carrying the coffins of police martyrs waved off with guards of honour. It then saw the coffin of the very same Sifwat Ghayoor, who lost his life in a suicide attack on August 4, 2010.

According to Khyber-Pakhtunkhwa (K-P) police records, 22 policemen were killed in Peshawar in suicide attacks, bomb blasts and target killings in 2008. In 2009, the number increased to 55. In the following year, 27 policemen were killed in such incidents, while 33 policemen lost their lives in 2011. In 2012, 41 policemen were killed in terrorist attacks, bringing the total to 178 in the last five years.




In the 1980s, the city bore the brunt of the terrorism allegedly sponsored by Afghan and Russian intelligence agencies which paralysed the city's day to day life and left hundreds of dead civilians in its wake.

However, the ongoing war on terror is different from the incidents that occurred in the 80s. Back then, the main targets of bombs planted by militants were crowded market places, and the attacks lacked technological sophistication. Now, the primary targets have become law enforcement agencies and security forces. Militants are no longer impeded by time dependent devices, they have added car/truck bombs and suicide attacks to their arsenal in addition to remotely operated devices.

"At present, Peshawar police is at the forefront in the war on terror and its sacrifices are higher than those of Swat police and Bannu police," Public Relations Officer (PRO) to Inspector General Police (IGP) Peshawar, Riaz Khan told The Express Tribune.

He said Swat police was the main target of terrorists in the past, but now there is peace there following a military operation. Peshawar has been replaced as the top target.

Published in The Express Tribune, February 11th, 2013.
COMMENTS (7)
Comments are moderated and generally will be posted if they are on-topic and not abusive.
For more information, please see our Comments FAQ