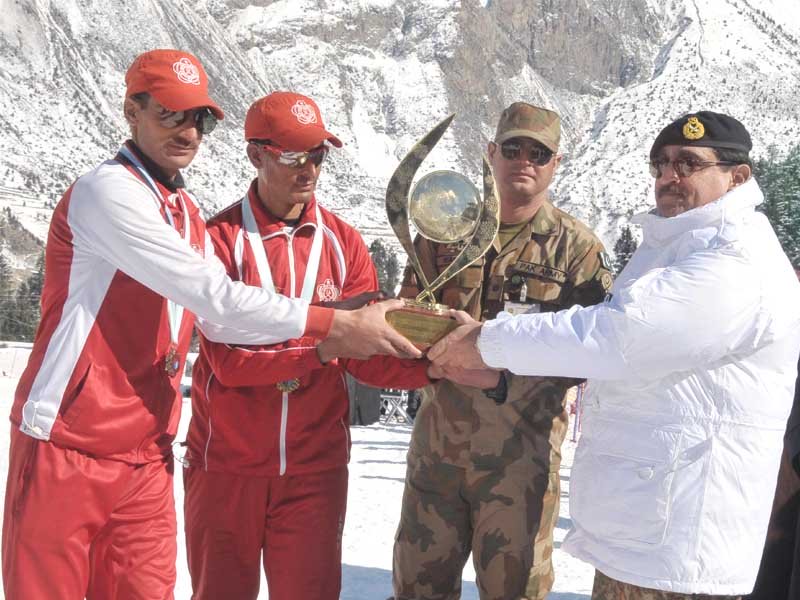 ---
KARACHI:



Pakistan Army won the Inter-Services Ski Men's Championship while national champion and winter Olympian Muhammad Abbas looks forward to winning the National Championship that will start from February 11.




The Ski Federation of Pakistan (SFP) added the inter-services championship for the first time in their calendar where according to Abbas, the level of competition was high as it brought all the top skiers in one event.

"It's tough because most of the top skiers are with the Army or the Pakistan Air Force (PAF) and they get better facilities compared to others," Abbas told The Express Tribune. "Of course this championship was more about the team that we are representing; however, it's a good kick-start for me before the National Championship here."

Meanwhile according to coach Fraz Nawaz, the men's skiing events have improved since the past as more than 50 skiers took part in the tournament representing nine teams in two events.

Besides the Army, Pakistan Air Force won the Chairman Joint Chiefs of Staff Committee Championship with Gilgit-Baltistan Scouts taking second position in the event and Pakistan Navy took part in the skiing competitions for the first time.

"Its progressing and it is good to have more athletes," said Nawaz. "Unfortunately, we only have slalom and giant slalom events but we are trying to hold the super giant slalom event too depending on the snowfall."

He said that the SFP will be focusing more on male skiers this year as they will be sent to six different international events.

"Women's skiing is still new to Pakistan while men skiers have been going abroad for a while now. Since there are comparably less participants in the women's championship, the competition is obviously not that tough. Although Aminah and Ifrah Wali are doing well, women's skiing is in a primary stage in Pakistan compared to the international standards."

Nawaz said that so far SFP has four to five good skiers, but Abbas remains the best since 2009.  He said that the 26-year-old is still the fastest athlete in the country in the giant Slalom competitions.

Published in The Express Tribune, February 9th, 2013.
COMMENTS (1)
Comments are moderated and generally will be posted if they are on-topic and not abusive.
For more information, please see our Comments FAQ