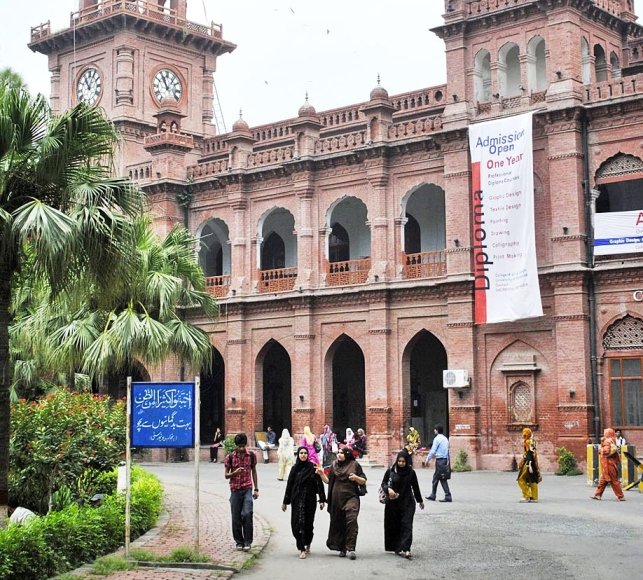 ---
LAHORE:



Chief Minister Shahbaz Sharif has set up a committee to investigate the allegedly illegal appointment of an assistant professor who heads the Institute of Languages at Punjab University.




Zaeem Hussain Qadri, the chief minister's special assistant on higher education, chairs the committee looking into the hiring of Maria Isabel Maldonado on a regular basis at the Punjab University in 2010, according to documents available with The Express Tribune. Maldonado was appointed assistant professor (Spanish) at the Oriental College in January 2010, to a permanent post advertised in September 2009.

Though the dean of the Faculty of Oriental Learning complained to the vice chancellor about the appointment, no action was taken. Maldonado was later put in charge of the Institute of Languages. Recently, a teacher there complained about her "derogatory behaviour" in a letter to the chief minister.

Faculty of Oriental Learning Dean Dr Mazhar Moeen wrote to Vice Chancellor Dr Kamran Mujahid at the end of 2010 pointing out various violations in her appointment.

To be hired as an assistant professor, candidates needed a master's degree from a foreign university and a minimum of four years post-graduation teaching or research experience in the relevant subject in BS-17 or above, the dean wrote.

But Maldonado was a Spanish teacher at Kinnaird College for Women, which doesn't offer post-graduate classes, Dr Moeen said. According to the Kinnaird vice principal, Maldonado taught Spanish at BA level from Feb 2005 to Dec 2009 as visiting faculty on an hourly payment basis. "So her claimed teaching experience cannot be considered as full-time teaching experience of a lecturer in BS-17," reads Dr Moeen's application to the vice chancellor, dated December 30, 2010.

He also wrote that the job advertisement sought applications from Pakistani nationals, but Maldonado was a Spanish national with a Pakistan Origin Card.




No action was taken on the application. Maldonado was later put in charge of the Institute of Languages. On February 2, 2013, Assistant Professor Aamir Rafique, who teaches German, wrote an application to the chief minister.

He wrote that a lecturer in Chinese had recently resigned and other faculty members were planning to boycott classes in protest at Maldonado's "derogatory behaviour". He too alleged that Maldonado was appointed in violation of various rules and regulations.

"A special inquiry committee may kindly be constituted to look into the tragic situation at the PU Institute of Languages," Rafique wrote.

A PU official told The Express Tribune that Maldonado had recently been awarded a Rs1.5 million grant to do an online PhD, which was also against the rules. "The scholarships are for faculty members admitted to a foreign university who physically go there to study. There is no award for online programmes as the teachers don't have to quit their job and station to do them," the official said.

Asked to comment, Maldonado declined, saying she first wished to discuss it with the vice chancellor. PU Registrar Professor Khan Rass Masood Khan said he did not know about the issue.

The inquiry committee's first meeting is to take place on Friday, said an official at the CM's Secretariat.

Published in The Express Tribune, February 7th, 2013.
COMMENTS
Comments are moderated and generally will be posted if they are on-topic and not abusive.
For more information, please see our Comments FAQ