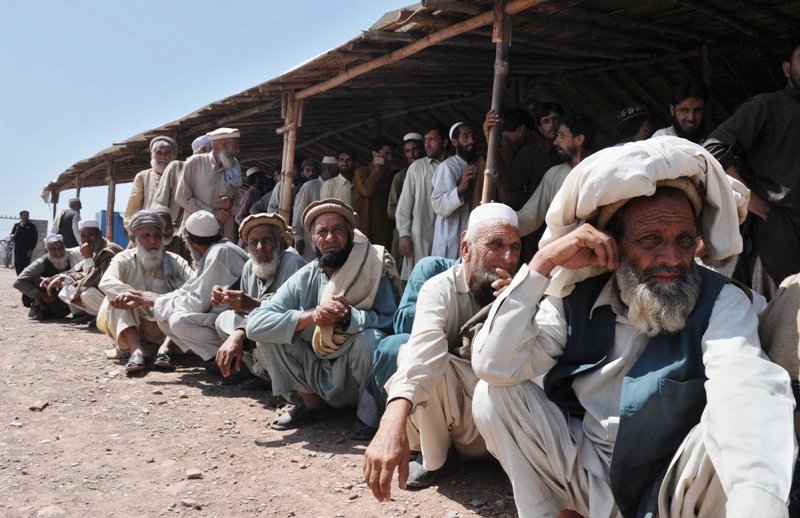 ---
PESHAWAR:



As the authorities contemplate officially declaring the troubled Tirah Valley area "war-hit zone", more than 2,500 families have been forced to evacuate amid deadly clashes between militant groups.




Outfits including the Tehreek-e-Taliban (TTP), Ansarul Islam (AI), Lashkar-e-Islam (LI) and the pro-government peace militia of Qamarkhel have been fighting a bloody turf war in Khyber Agency for 12 days.

Witnesses spoke of hundreds of stranded women and children living without any food, blankets or shelter in the region's unforgiving winter wilderness after entrances and exits to the valley were sealed off.

Siraj Muhammad, an uprooted victim who reached Peshawar a day ago with 12 of his family members, said that the people of Qamarkhel, Lar Kallay, Largo Kallay, Tora Lagda and Bar Kallay of Takhti have been forced to move to Maidan in sub-zero temperatures and testing conditions.

He added that security forces in Dabori were slowly allowing the displaced families enter Orakzai Agency after thorough checks.

Like many others, Siraj Muhammad and his family walked on foot for around five kilometres and then hired a vehicle for Rs14,000 to take them to Peshawar where they are now living with relatives.

Another displaced victim, Yar Muhammad Khan, who is a school teacher, revealed that two months ago he fled to Peshawar with his family due to the worsening law and order in Tirah. He is now living in a rented house in Scheme Chowk.

The influx of the displaced people is increasing day by day as the clashes run into a second week.

On Tuesday, Khan's brother along with 15 more family members and a relative with nine more people came to his house in Peshawar. The guests came with little more than the clothes on their backs.




Heavy rainfall in the area is making the trek even more difficult. The house where Khan's family was staying in was damaged and now they are searching for another one.
"Where do you expect us to get food to feed our children and women? How can the government turn a blind eye to this as if nothing has happened," he lamented.

Response?

Around 1,500 families have migrated to Upper Tirah Valley, according to Tehreek-i-Mutasireen Khyber Agency Chairman Sobat Khan Afridi. It is a stronghold of the AI and a relatively safe area. Almost 800 more families have shifted to Orakzai Agency and around 300 families have fled to Peshawar.

Afridi said that some people have gone to Orakazai Agency through Dabori while some of them reached Peshawar through Afghanistan and other areas. In Khyber, some 300 families have been registered and were provided food and blankets, Afridi said.

According to him, talks continue with Khyber Agency Political Agent Mutahir Zeb who has assured them that the affected area will be declared a "war-hit zone" soon and the displaced people will be registered in the IDP camp at Jalozai — rendering them eligible for aid. The political agent had asked the law and order secretary at the Fata Secretariat on Monday to register the IDPs from Tirah and provide them food and shelter.

Despite repeated attempts, no official of the Fata Disaster Management Authority responded to calls for their comments on the crisis.

An official of the Provincial Disaster Management Authority (PDMA) said, however, that after the political agent declares an area war-affected, the Fata authority will send the provincial authority a letter to distribute food and provide other facilities. "Without going through the whole procedure we cannot do anything for these victims," he said.

Over 100 TTP militants, 40 AI militants, 23 LI militants and 16 peace militia members have been killed up till now and several tribesmen have also lost their lives.

Published in The Express Tribune, February 6th, 2013.
COMMENTS (17)
Comments are moderated and generally will be posted if they are on-topic and not abusive.
For more information, please see our Comments FAQ