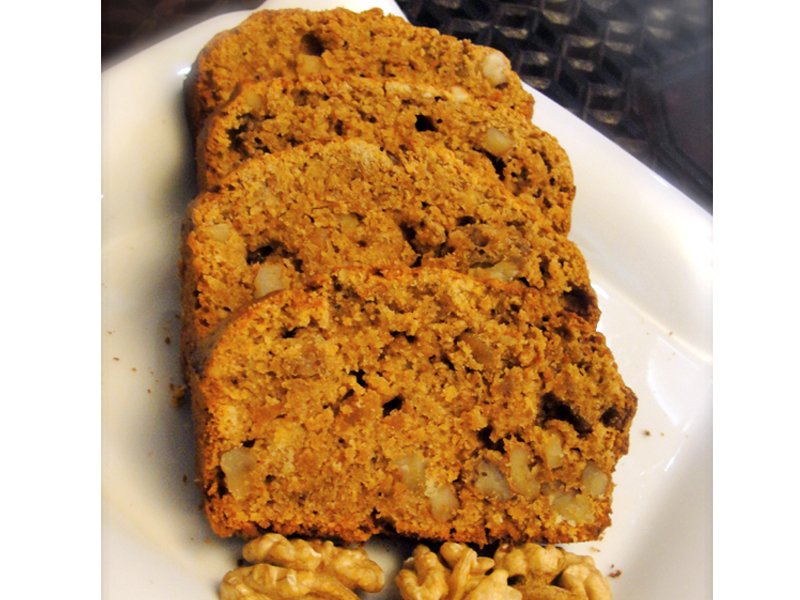 ---
Here is the classic Banana Bread recipe with an interesting twist.

Loaded with walnuts and cinnamon, this bread turns out moist from the inside and intensely flavourful because of the combination of banana and cinnamon. Since I am not a fan of white flour, I mixed it with wheat flour for a healthier dessert.




Ingredients

Bananas 2 ripe

Flour 1.5 cups

Cinnamon powder 1.5 tsp

Butter (melted) 4 tbsp

Egg (beaten) 1

Baking powder 1.5 tsp

Brown sugar 1 cup

Vanilla essence 1.5 tsp

crushed walnuts 1/2 cup

Bread-baking tin

Method




•  Preheat the oven at 170oC with both grills on.

•  In a bowl, mash the bananas with a fork. Pour in melted butter and mix.

•  Then add cinnamon, sugar, walnuts and vanilla essence.

•  Add flour and baking powder.

•  Pour the beaten egg and mix well with a wooden spatula until smooth.

•  If the mixture becomes so thick that you're finding it difficult to mix the ingredients, add a tbsp of milk.

•  Grease the tin with butter and pour batter in it.

•  The batter will be too thick to flow, so pour it smoothly in the corners to ensure no air bubbles are formed.

•  Bake for 40-45 minutes at 170oC

•  Test if the bread is fully cooked by inserting a knife in the middle. If it comes out clean, your bread is ready. If not, bake for another 10 minutes.

•  Cool the bread tin for 5-10 minutes after taking it out from the oven.

•  Take the bread out of the tin and slice it with a sharp knife.

•  Serve warm with coffee.

•  If your banana bread seems a little soggy, slice it and leave it open for the moisture to escape. You can also store it in the fridge and re-heat it when serving.

Preparation time: 15 minute(s)

Cooking time: 45 minute(s)

Number of servings (yield): 4


Madiha Hamid is a digital media professional. She runs a food blog for Pakistani and regional cuisines called

cheflingtales.com

. Follow her on Twitter

@cheflingtales 


Published in The Express Tribune, Ms T, February 3rd, 2013.

Like MsT on Facebook for your dose of girl talk.
COMMENTS (1)
Comments are moderated and generally will be posted if they are on-topic and not abusive.
For more information, please see our Comments FAQ