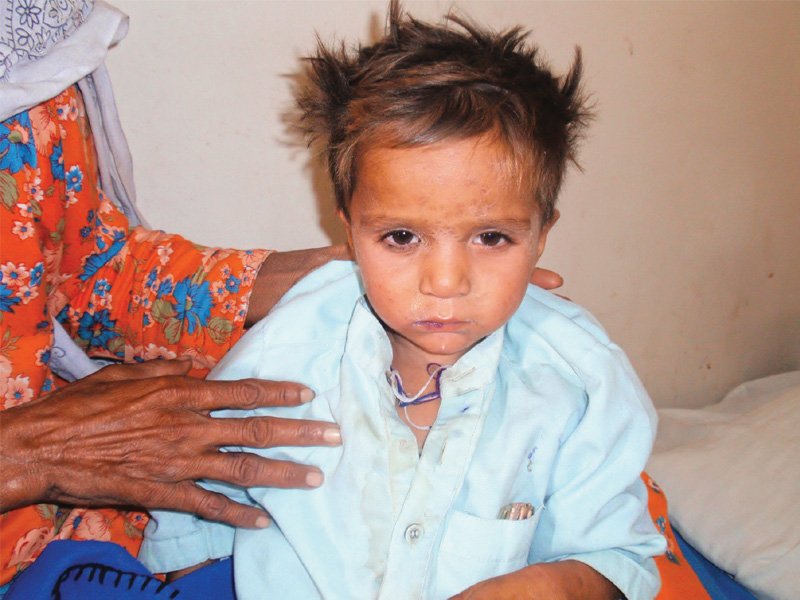 ---
SUKKUR: The death toll from the nearly two-month-old measles outbreak has reached 485 according to unofficial statistics, yet there are parts of Sindh where the vaccine has yet to reach.

During a meeting on Tuesday night at Sukkur circuit house, adviser to chief minister on relief Halim Adil Shaikh told The Express Tribune that there are some desert belts of Sukkur where the vaccinators have not reached. The health workers have been allocated four-wheelers and have nearly Rs3.4 million at their disposal, but their performance has been very poor, he felt.

Shaikh met the residents of several villages in Salehpat taluka and even some parts of Khairpur district, who told him that no vaccinators have visited them. The residents of Bagan Shambhani village complained that they are hardly one kilometre away from the main road, but they were missed. The situation is health centres is also poor as there is a shortage of doctors and paramedics, the adviser said.

The authorities are to blame for not recording the actual number of deaths from measles, Shaikh said. Eleven children have died in Sarohi village alone, he pointed out.

Measles among vaccinated children

According to Shaikh, several children who were brought into Civil Hospital, Sukkur, and Red Crescent Hospital contracted measles even though they were vaccinated. This is quite alarming because it means that the vaccines are not kept cold when they are transported from one location to another, he said.




Muhammad Sachal Jagirani lost his two-year-old son, Shahid, on Wednesday morning at Red Crescent Hospital even though he was vaccinated. The family lives in Arain village near Sukkur where Shahid was vaccinated a few weeks ago. Some time later, the boy showed symptoms of measles and the doctors advised the family to take him to Sukkur, but the little boy could not make it.

A resident of Budho Chohan village, which is around 10 kilometres from Sukkur, Mashooq Ali Chohan told The Express Tribune that his two-year-old son, Shoukat Ali, was vaccinated one month ago but he contracted the virus five days ago. Similarly, a resident of Shikarpur's Eidgah Muhalla, Pehlwan Otho's daughter was vaccinated three weeks ago but she too contracted the virus. Otho claimed that five children have died from measles in their village in the past one month.

There are several patients in Civil hospital who were earlier  vaccinated but are still suffering from measles.

Sukkur district health officer Dr Jay Ram Das confirmed that it is possible to contract the virus even after vaccination. "It depends upon the immune system of the child," he told The Express Tribune. The success rate of the anti-measles vaccine is not more than 85 per cent, he added.

Sometimes, children's immune system does not accept the vaccine and they fall prey to the virus. In these cases, Dr Das said, they use vitamin A drops to the children, besides taking extra post-measles care so that they are safe from further complications.

Published in The Express Tribune, January 24th, 2013.
COMMENTS (9)
Comments are moderated and generally will be posted if they are on-topic and not abusive.
For more information, please see our Comments FAQ