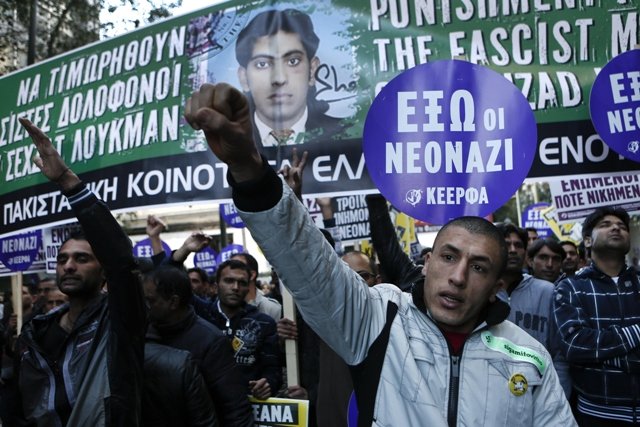 ---
ATHENS: Hundreds of people poured onto Athenian streets on Saturday, but this was not a rally against the government's austerity measures and rising unemployment. Rather, migrant workers mostly from Pakistan participated, protesting against a rising trend of racism and fascism that they are facing from Greeks.

The extent of racism is believed to have precipitated in the murder of a Pakistani migrant worker earlier this week.

Shehzad Luqman, 27, a Pakistani migrant worker was stabbed to death by two men on a motorcycle as he rode his bicycle to work in an Athens suburb in the early hours of Wednesday. Police believe that the attack may have been racially motivated.

"Perhaps his murder will bring hope that these attacks will stop. We are protesting for the government to take measures to stop racist attacks," Javied Aslam, head of the Pakistani Community organisation told Reuters, as about 300 Pakistani immigrants gathered outside city hall with the coffin.

Earlier this week, police arrested a 29-year-old firefighter and another man, 25, for Luqman's murder.

A police official told Reuters earlier this week that both suspects had admitted to stabbing Luqman in the chest following a drunken argument.


Protesters hold a banner during an anti-racism rally in Athens January 19, 2013. PHOTO: REUTERS

About 3,000 immigrants and human rights activists later gathered in the city's central Omonia square to demonstrate against racism, holding banners reading "Neo-Nazis out" and "Punishment for the fascist murderers of Shehzad Luqman".

"I have been the victim of a racist attack and when I tried to complain about it I was arrested. Police are the same as Nazis," 35-year-old Gildas Batola from Congo told AFP at the rally organised by groups including municipalities, migrant communities and the radical left main opposition party Syriza.

Protesters carried banners reading: "Fascism never again", "End to racist attacks" -- also a gay flag was thrown into the mix.

International human rights groups have warned of a surge in xenophobic attacks on migrants in Greece, where economic hardship and a sixth year of recession have fuelled the rise of the far-right.

Amnesty International said Luqman's killing was not an isolated incident but showed a "continuing failure" of the Greek authorities to take action to put an end to racist violence.
COMMENTS (28)
Comments are moderated and generally will be posted if they are on-topic and not abusive.
For more information, please see our Comments FAQ