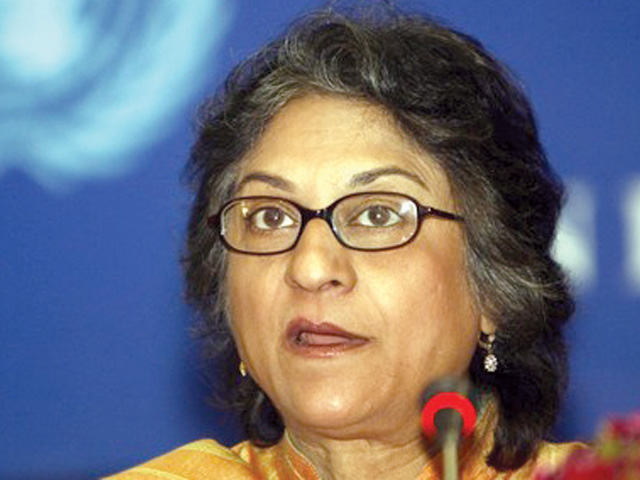 ---
LAHORE/ KARACHI:



Former president of the Supreme Court Bar Association (SCBA) Asma Jahangir on Tuesday said the issuance of a Supreme Court order to arrest the prime minister at the time of Dr Tahirul Qadri's long march was not a coincidence but a conspiracy.




"The timing of the two events seems suspicious," she told a press conference at the Karachi Press Club.

"Why did the arrest order for Prime Minister Raja Pervaiz Ashraf come after the long march entered Islamabad? Was the prime minister fleeing the country?"

Pawns of establishment

Flanked by Sindh High Court Bar Association's president Mustafa Lakhani and other office bearers, Asma Jahangir said everyone was against corruption, but the establishment could not obtain orders according to its wishes, if someone indulges in corruption.

"The government will only be dissolved in a constitutional manner," she said.

Asma also criticised the chief justice, who, she said was restored by the army chief.

Today's events (in Islamabad) have exposed the pawns of the establishment.

"If decisions are being changed on demand of 50,000 people, then the situation might further aggravate when 200,000 people will take to streets for fulfilment of their demands."

Bars denounce long march

Denouncing Tahirul Qadri's long march, the Supreme Court Bar Association (SCBA) has announced its plan to resist any attempt to derail democracy.

Addressing a press conference at Supreme Court Lahore Registry on Tuesday, SCBA Secretary General Raja Javed Iqbal said Qadri was misleading naive people and wanted to wrap up democracy in the name of long march.

"All the bars have condemned the long march and termed it a conspiracy against the democracy," he added.

He said the leader of the long march should read through the Constitution first instead of trying to teach it to the others. "The way to dissolve [parliament] is written in the Constitution," he said, adding that the demand of suspending parliament was unconstitutional.

The secretary went on to add that staging a sit-in at a time when parliament was due to complete its tenure was tantamount to derailing democracy.

Raja also appealed to all stakeholders to create a friendly atmosphere for immediate free and fair elections. Responding to a question, he said the protest by lawyers' was not against any constitutional act.

Published in The Express Tribune, January 16th, 2013.
COMMENTS (19)
Comments are moderated and generally will be posted if they are on-topic and not abusive.
For more information, please see our Comments FAQ