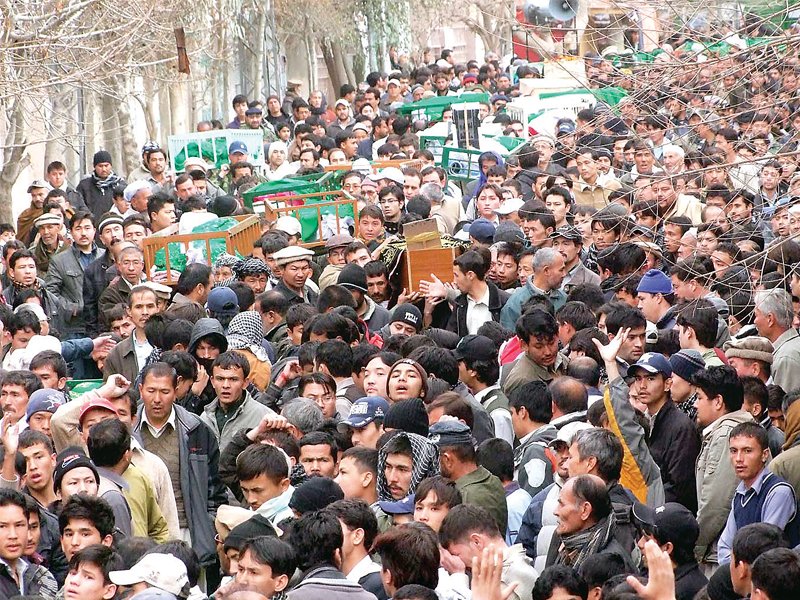 ---
QUETTA:



Besieged members of the Shia community appealed to the army on Friday to take control of the provincial capital and shield them from extremist groups as the death toll from Thursday's twin bombings soared past 100.




The outlawed extremist group Lashkar-e-Jhangvi has claimed responsibility for the deadly suicide and bomb attacks at a snooker club in the Shia-dominated Alamdar Road neighbourhood of the city.

On Friday, a thick pall of gloom hung over the city as businessmen and traders joined both nationalist and mainstream political parties in mourning the previous day's carnage. All shopping malls, business centres and markets were closed in response to a call by the Anjuman-e-Tajiran Balochistan.

Roads and thoroughfares were deserted for the most part as motorists stayed indoors. In eerie silence, law enforcers and paramilitary soldiers patrolled the main roads and thoroughfares.

While the death toll rose to 102, hundreds of Hazara community members, who are Shias by sect, erected barricades and burnt tyres on Brewery Road and at Bacha Khan Chowk to protest Thursday's massacre.

They shouted slogans against the provincial authorities and called for the army to take over the city.


Shia Ulema Council chief Maulana Amin Shaheedi criticised Chief of Army Staff General Ashfaq Parvez Kayani over the country's security.

"I ask the army chief: 'What have you done with these extra three years you got (in office)? What did you give us, except more death?'" Maulana Shaheedi told a news conference. He was referring to a three-year extension in service given to Gen Kayani by then premier Yousaf Raza Gilani in  July 2010.

Mourners had initially planned to bury the victims' bodies after Friday prayers but decided later to leave the bodies in place until the community had received assurances of protection. Maulana Shaheedi said scores of bodies were still lying on the road. "They will not be buried until the army comes into Quetta."

The Hazara Democratic Party (HDP) president echoed Maulana Shaheedi's demand, saying that unabated violence has proved that the provincial government had no right to continue in power.

The HDP president, Abdul Khaliq Hazara, demanded that an interim government be put in place in the province in consultation with all stakeholders. If this does not happen, Hazara warned that sectarian violence could engulf all communities and ethnic groups living in the city.

The HDP president also hit out at law enforcement agencies for their "failure to stem the tide of targeted killings of Hazara community members".

Three newsmen – Samaa TV reporter Saifur Rehman Baloch, cameraman Imran Sheikh and NNI news agency photographer Muhammad Iqbal – were also killed in Thursday's twin bombings.

On Friday, they were buried in Quetta and Karachi. Senior politicians joined hundreds of mourners at the funeral of Saifur Rehman in Karachi.

The journalist community observed a black day across Balochistan to protest the killing of their colleagues. They hoisted black flags atop local press clubs and wore black armbands as a mark of protest.

In a statement, the Quetta Press Club president said bomb blasts and targeted killings had claimed lives of around 30 journalists in the province over the past four years – but the authorities were oblivious. (With additional input from Agencies)

Published in The Express Tribune, January 12th, 2013.


COMMENTS (5)
Comments are moderated and generally will be posted if they are on-topic and not abusive.
For more information, please see our Comments FAQ