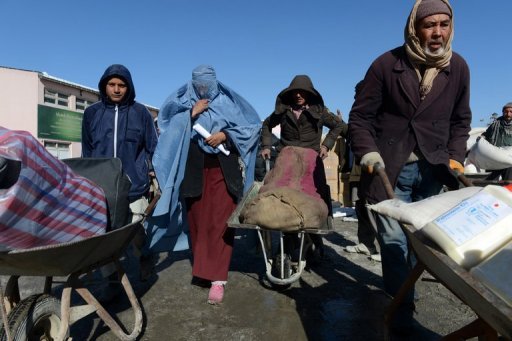 ---
KABUL: Hundreds of families living in makeshift shelters around the Afghan capital collected blankets, charcoal and other supplies on Wednesday as authorities struggle to avoid a repeat of last winter's deaths.

With temperatures dropping to -10 Celsius (14 Fahrenheit) at night in Kabul, the 35,000 refugees who live in snow-covered camps face a battle to survive dire conditions protected only by plastic sheeting.

Despite Afghanistan receiving billions of dollars of aid since 2001, more than 100 children died last year during the harshest winter in two decades, and the UN refugee agency UNHCR has co-ordinated efforts to reduce repeat fatalities.

"Last year was the worst, and the weather is again turning bad," Sayed Ullah, 40, said as he lined up for a large package containing tarpaulins, cooking oil fortified with vitamins and warm clothing for adults and children.

"I live in some ruins with my wife and four children, and we don't have any heat or enough food," said Ullah, who was maimed in a mine explosion several years ago that left him missing several fingers.

"We fled to Kabul from Logar province due to the violence and I have no income except for just a bit of labouring work. We need help to get through the winter."

UNHCR said it had funded and organised distribution of aid to more than 32,000 "internally displaced" families across the country since November and that 240,000 Afghans would receive winter assistance through its scheme.

At least two deaths from the cold have already been confirmed this year, a three-year-old and a new-born infant in the Charahi Qambar refugee camp in the west of Kabul.

Last year's death toll sparked anger over the government's failure to protect people, even in Kabul. Emergency relief was eventually shipped into the camps by the US military, international groups and charities.

"Poverty, conflict and lack of development are longstanding problems which leave many people vulnerable," said Douglas DiSalvo, a UNHCR official at the distribution centre.

"We can provide assistance but people still live without proper hygiene, sanitation and protection from the weather and that must be tackled.

"We have been working with the government and others intensively to prepare for the worse winter period, which may still lie ahead."

The government on Wednesday said it was working to prevent winter deaths among camp residents in response to widespread criticism last year.

"Close monitoring and additional resources will be needed throughout the winter," Jamaher Anwary, minister for refugees, told reporters.

Kabul officials want the 55 camps in the city to be cleared and refugees to return to their home provinces, but many say it is too dangerous due to the Taliban insurgency against the US-backed government.

The UNHCR called for refugees to be spared the threat of eviction by providing them with adequate shelter in Kabul or elsewhere.
COMMENTS (1)
Comments are moderated and generally will be posted if they are on-topic and not abusive.
For more information, please see our Comments FAQ