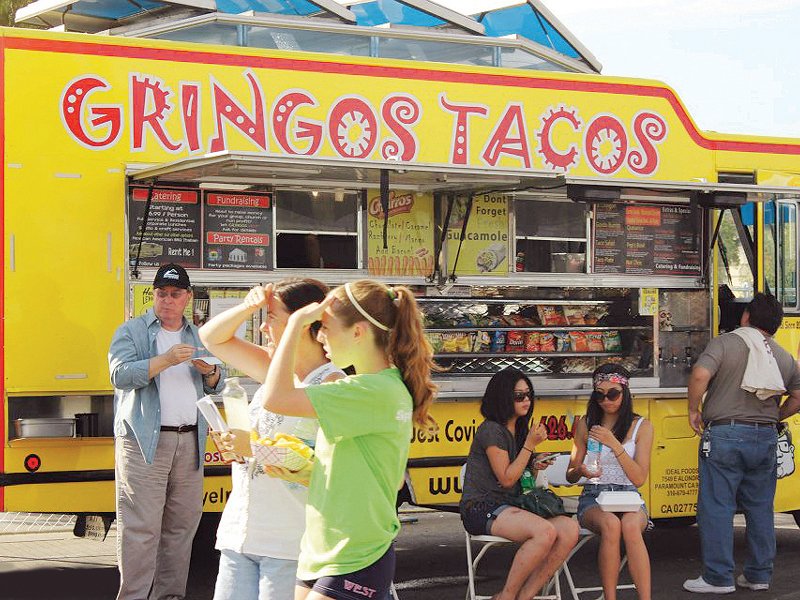 ---
I was at my aunt's house in Irving, Texas watching the Cooking Channel on a lazy afternoon. The programme was "Eat Street" and they were showing a segment on a Los Angeles food truck, Jogasaki Sushi Burrito.

A sushi burrito? It sounded and looked amazing and delicious. And I was going to be in Los Angeles in a week! So all I had to do was check where the Jogasaki truck would be in the city while I was there and I could go eat this sushi burrito. The plan was made. My mind was set. I now had another reason to go to LA.

The night we landed in LA, I went to the Jogasaki website to see the schedule, and saw that the truck was going to be at The Yum Festival. Further googling revealed that The Yum Festival was a food truck festival taking place in Ontario. The foodie in me began to brim with excitement. Not one, but 50 of LA's best food trucks. I had to go!

The Ontario Mills, an outlet mall, is about an hour's drive from Los Angeles and if you get stuck in traffic, which we did, then it may take longer. However, I am going to maintain that it is completely worth the trip. So sort of by accident, without really planning to, I ended up at the first ever Yum Festival. And to think, until a few days ago I didn't know such a thing even existed.




As you enter the festival area, after paying and getting your hand stamped, there are food trucks everywhere with long queues outside many of them. In the centre there is a dining area and the trucks are parked all around. It's a bit difficult to decide which way to go first!

"The concept of the festival was to bring the community together to enjoy delicious food with their family and friends, shop and visit their favorite stores in Ontario Mills and at the same time help out a good cause," Joey Moreno, CEO and owner of The Yum Festival, explained in an interview via email.

"I really do believe this is a win-win situation for all the parties involved and that is really what we are focused on; spreading positivity, providing a good time and great food for attendees and helping others at the same time."

While the first festival supported the McKinley Children's Centre in San Dimas, the second will benefit the Chaffey High School Arts Program, one of the largest public schools in California. The tickets are reasonably priced at $7, and presale $5, with a free entry for children under four.




Often food festivals are held annually but the second Yum Festival will take place just three months after the first. "There was never a plan to hold the festival annually. We did the first one in June, we feel it went well and people had a great time and most of the feedback was, "When is the next one?" So we figured why not make it happen as soon as possible. If we didn't do it before October we would have had to wait until after the winter season and we wanted to give the people something before then. We're shooting for four times a year," Moreno said.




The first truck I got in line for is Jogasaki.  I got the Jogasaki 4A, which is made with spicy tuna, shrimp tempura and avocado, all wrapped up in soy paper; it was divine and the seafood tasted so fresh. I found that even people who don't like sushi liked the sushi burrito.




If you are planning to travel to Los Angeles you can visit their website to find out where the truck will be parked whenever you are in town. In fact all the trucks have websites, Facebook pages and Twitter feeds so you can see what you might like to order beforehand and save time.

The trucks returning for festival number two include The Grilled Cheese Truck, which serves creative spins on the classic grilled cheese sandwich like the Caprese melt with mozzarella, basil and tomatoes in roasted garlic bread; Cool Haus, which offers gourmet ice cream sandwiches; The Lime Truck, where the goal is to "create fresh, healthy food that is convenient and accessible"; My Delight Cupcakery, which has some delicious hand-crafted cupcakes; Lobsta Truck, lobster in bread rolls; OG Tempura, tempura every which way; The Fry Girl, everybody's favorite classic (Fish and Chips) and not-so-classic (Deep Fried Mac N' Cheese Balls) fried foods; India Jones Chow Truck, Indian food; Meet N' Potatoes, hearty meat sandwiches stuffed with fries.

If you need more yum in your life, then keep a look out for the Yum festival the next time you are in LA.

Published in The Express Tribune, Sunday Magazine, January 6th, 2013.

Like Express Tribune Magazine on Facebook to stay informed and join the conversation.
COMMENTS
Comments are moderated and generally will be posted if they are on-topic and not abusive.
For more information, please see our Comments FAQ