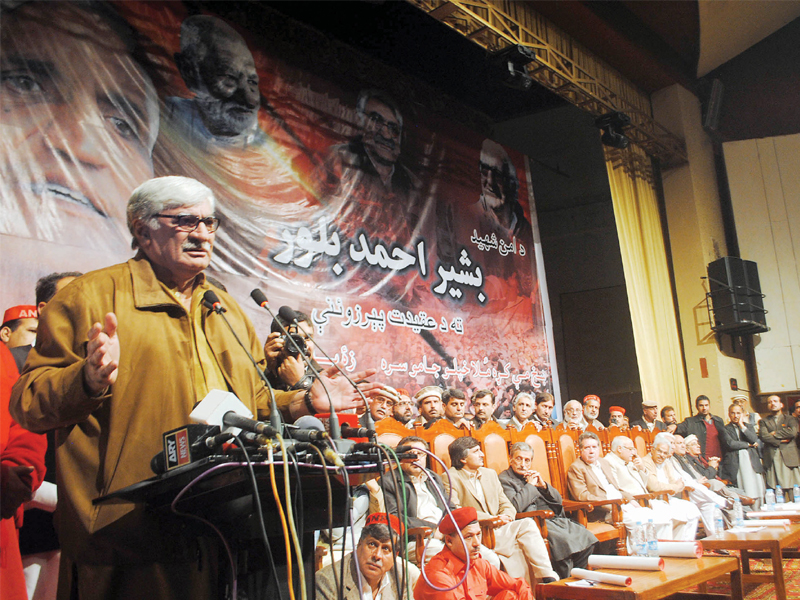 ---
PESHAWAR:



While the Awami National Party (ANP) has repeatedly stated that it has not been cornered by Bashir Bilour's assassination, it seems to have decided to tone down its vocal opposition to the militancy in the region.




In a condolence reference for the late senior minister Bashir Ahmed Bilour who was targeted in a suicide attack on December 22, ANP stalwarts including his brother Ghulam Ahmad Bilour and ANP chief Asfandyar Wali Khan supported the idea of giving "first priority" to holding talks with militants.

In the reference held at Nishtar Hall and attended by Afrasiab Khattak, Information Minister Iftikhar Hussain, Senator Ilyas Bilour, Haroon Bilour and others, the party's leaders agreed dialogue was a better solution than military action.




"We do not demand that the militants lay down their arms or surrender to us, but only shun violence and come forward for talks," said Asfandyar Wali while addressing a packed audience of ANP activists and leaders on Monday.

Wali reiterated that Bashir's assassination could not break the party or make them give up their struggle.

"We resorted to talks earlier, when matters were within the jurisdiction of the provincial government," said Wali in an apparent reference to the Malakand region, where the party's leadership tried to negotiate with militants, but failed when military operation 'Raah-e-Raast' was launched in 2008.

ANP's central president, however, stressed the ball was in the federal government's court. "As the issue of terrorism is (concentrated) in the tribal areas, the responsibility for any action falls on the federal government."

He added that priority should be given to holding talks, but that other options can be discussed if militants were not ready for negotiations.

"Political parties can resist terrorist acts to a degree, but eliminating them is the responsibility of the state," he said.

He warned against not holding timely elections, saying delays would yield negative results and benefit those not in favour of a smooth political transition.

Railways minister and brother of the deceased, Ghulam Ahmad Bilour, however, made no attempt to mince words during his emotional speech before the aggrieved ANP supporters.

"We are those who never bowed our heads (before militants) and will not do so in the future. Taliban are cowards and if they have the guts, they should come to the front and fight," he said, calling militants "assasins".

Referring to Tehreek-e-Taliban Pakistan's recent offer to hold talks, Ghulam said the conditions of negotiations will now change following Bashir Bilour's death. "A day before his death, I told Bashir he will be the only one speaking out against militants (at the convention) and he replied saying 'if not me, who else.'"

Ghulam Bilour added that his brother's martyrdom has made the party proud.

Published in The Express Tribune, January 1st, 2013.