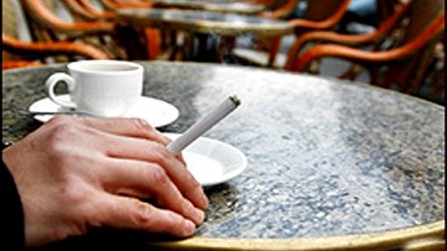 ---
FRANCE: France's famed cafe culture is in deep crisis, forcing rural bars to defend their role as the hub of village life with services like theatre, groceries or wireless Internet.

In the Breton hamlet of Sainte Anne du Houlin, Joel Hamard invites professional story tellers to his bar, the "Couleur Cafe", to entertain customers who can also enjoy a bowl of soup made from local produce.

"When I first came here, the old people in the village would say this used to be a really lively place and I wanted to re-create that," he said.

"You have to be open to everyone in a bar today, including children. It's the only way you can hope to survive." As in countless other villages, the cafe in Sainte Anne du Houlin plays a key social role as the only place where people can meet up regularly. "In the hamlet it's all there is," said Hamard.

Judging by reactions to the story evening, Hamard's gamble has paid off. "I really liked it. It was funny, really enjoyable.

A rich universe," said Matthieu Boucher who had driven three quarters of an hour to join the show's audience of children, grandparents and adults of all ages. Local councillor Elisabeth Reperant said the bar has given a much needed boost to village life.

"We are in a rural area and we don't have many places for young people to go.

There is an event every weekend and on weekdays too in the summer. It's definitely an advantage for us," she said.

It's a similar story elsewhere in Brittany. In the picturesque port of La Roche Bernard, bar owner Eric Gerardin has organised an evening of improvisational theatre, with local actors playing to peals of laughter.

"For me a cafe is a lively, dynamic place. It's a forum. A village square," Gerardin explained. Both Gerardin and Hamard are members of "Cafe de Pays Bretagne", a network of 30 bars and cafes that offer cultural events like theatre, concerts, art exhibitions and debates, as well as food made from local produce.

"It's crucial for me to be in a network. Having a recognisable label helps the bar's image and it also allows me to meet with colleagues and exchange ideas and experiences," Gerardin said.

There is no denying the scale of the problem facing France's cafes, however -- particularly in rural areas. According to industry figures, there were more than 200,000 cafes and bars in France in 1960.

Today there are fewer than 30,000. And the current financial crisis has hit survivors hard. The average French bar saw its turnover drop by 12 percent in 2009.

Authorities are so worried about the decline of cafe culture that this year the French senate hosted a major crisis conference in Paris. "Cafes must offer a variety of services," said Michel Mercier, minister for rural development.

"And what is right for rural areas is also the case for towns and cities." Live entertainment is just one way rural bars are attempting to heed the minister's call.

Other establishments offer Internet services such as wireless hot spots in a bid to attract younger web-savvy customers. "Cafes must not be disconnected from the world their customers live in. An Internet terminal isn't enough," Patrick Villemin, secretary general of Heineken France, told the Paris conference.

"A 20-year-old needs to be able to use their smart phone. Wi-Fi access is the minimum you need." France's bar owners list many reasons why things are going so badly.

People prefer to stay at home and watch television instead of going out; new laws ban smoking in public places; there are tough drink driving limits and crippling business taxes. Critics argue meanwhile that cafes should make a greater effort to keep their prices down.

Maryan Kujawa, who runs a small bar that survives thanks to help from the local council in the small village of Saint Symphorien near the Breton capital Rennes, accepts this up to a point.

"It's the breweries who hold the key to the problem," he complained, however.

"Every year they increase the price of their beer and we are forced to pass that on to the customer."