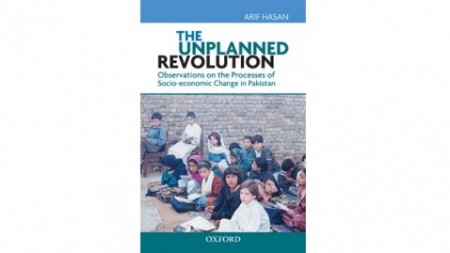 ---
KARACHI: The Oxford University Press (OUP) will launch books on social change and development on April 9.

An announcement today said that the OUP will launch its two recent publications titled 'The Unplanned Revolution: Observations on the Processes of Socio-economic Change in Pakistan' and 'Participatory Development: The Story of the Orangi Pilot Project-Research and Training Institute and the Urban Resource Centre, Karachi'.

It said the books have been authored by Arif Hasan who is an architect/planner dealing with urban planning and development issues, particularly those concerning Asia and Pakistan.

The Unplanned Revolution identifies past, present, and emerging socio-economic conditions in the different ecological regions of Pakistan whereas Participatory Development relates the success story of two internationally recognised participatory development projects in Karachi and the impact of their work, advocacy strategies, research methods, and policy implications.

At the launching ceremony Arif Hasan will give a talk on 'SocialChange and Development'. The Managing Director of OUP Pakistan, Ms. Ameena Saiyid, will present the welcome address.

Dr Noman Ahmed, Professor and Chairman, Department of Architecture and Planning, NED University of Engineering andTechnology, will introduce the author.
COMMENTS
Comments are moderated and generally will be posted if they are on-topic and not abusive.
For more information, please see our Comments FAQ