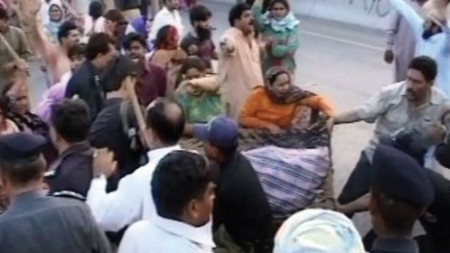 ---
LAHORE: Local police officials stooped to their lowest when they baton-charged mourners during the funeral procession of three women allegedly shot by a notorious criminal over unsettled Bhatta payment.

Akmal aka Akli was accused of forcibly entering a residence in Sagiyaan area of Al-Saeed Chowk and killing two women and injuring two others. Hameedah Bibi and Azmi Bibi were shot at point-blank range and died instantly while Afzaan and Zubaida were rushed to Mayo hospital in critical condition.

Zabaida bibi struggled for a few hours before she was also pronounced dead by the doctors at Mayo hospital. An FIR was registered and the relatives of the deceased stated that the assailant had committed several murders and was a wanted criminal. The relatives of the women decided to carry their shrouded corpses to the Punjab Assembly (PA) before the funeral rites to protest the inability of police officials to arrest a well-known offender.

The funeral procession was interrupted by policemen who had strict orders from senior police officials to stop the demonstrators from reaching the PA. The policemen clashed with the relatives at Band Road during the procession when they refused to hand over the bodies.

Forty policemen shoved, smacked, manhandled and baton-charged the mourners in an attempt to snatch the corpses. The misdeeds were captured on film and the footage cleared showed officers charging the protestors, often missing and hitting the corpse instead. Several retaliating women were also mistreated and their dupattas were pulled off.

The enshrouded bodies fell off the casket and to the ground in the tug-of-war between police officials and mourners. The officers managed to free one corpse from the relatives and tried to flee with the body in an attempt to confiscate it.

Superintendant police Zeeshan Asghar reached Band Road but failed to negotiate with the protestors or stop officers from disrespecting the dead.

The relatives stated that they had informed the police about the incident and registered an FIR but the policemen were unwilling to arrest the criminal or cooperate with the families. An eyewitness Nabeel Ahmad at Band Road at the time of the clash stated, "I have never seen something like this. You know a society is losing its integrity and dignity when policemen are seen disrespecting the dead. I can not believe that human being could ever be so callous and aweless".
COMMENTS
Comments are moderated and generally will be posted if they are on-topic and not abusive.
For more information, please see our Comments FAQ