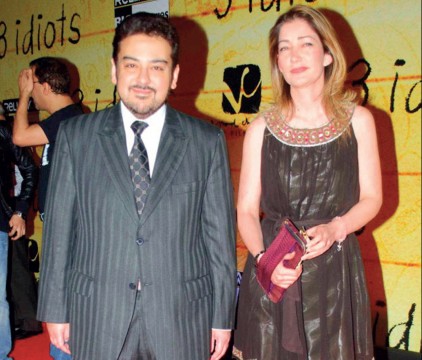 ---
LAHORE: During a brief visit to Lahore with his third wife, Roya Faryabi, Adnan Sami Khan met political figures, his friends and gave his wife a tour.

Adnan Sami Khan has just finished his short visit to Lahore with his wife Roya Faryabi. Other than meeting with associates and friends, Khan wanted his third wife to witness the traditional side of Lahore.

Khan and Faryabi have now left to spend some time in Islamabad, where Khan's family lives. So what exactly did the couple get up to?

Raiwind expedition

Khan and Faryabi arrived in Lahore on Sunday, and had afternoon tea with Nawaz Sharif at Jati Umra, Raiwind. Speaking to the press, Khan said that he and Sharif discussed a number of different topics including the tradition of music in Pakistan. Khan said that he has invited Sharif to sing a song with him and if he gives the go-ahead then he would like to record a duet as soon as possible.

Roya's reception

At a reception arranged by PPP's general secretary Jahangir Badar in the couple's honour, Khan kept talking about his ties with Badar. "Badar used to send me almond sherbet for my health. I hope he remains being kind after my wedding. His hospitality has always been part of my good memories from Pakistan. Even this time, he was the first person I informed about my visit," Khan said on the event which was attended by Samina and Usman Peerzada, Zile Huma, Shahida Minni, Farhan Saeed Butt and Ghulam Mohiuddin.

Friends' reunion

Khan met his friends and close associates during his stay in Lahore. "My time in Lahore extremely busy. I met my old friends who were truly happy about my marriage. I wanted to spend more time in Lahore but I could not stay because of my health issues. I will definitely come back to enjoy the savoury food here," Khan told Express.

Reality checks

While treating Khan with a true Pakistani spirit, Lahore also offered quick reality checks to the singer.

Food poisoning

All the plans to visit historical buildings and other famous places in Lahore vanished when Khan fell ill after enjoying traditional meals. Instead of appreciating Lahore's heritage further, the couple spent the time recuperating,

Scam charges

Pakistani lyricist Riazur Rehman Saghar accused Khan this week that he never got paid for lyrics he wrote. Saghar said, "When Adnan Sami approached me to write lyrics, he bowed and touched my feet out of respect." Saghar further claimed that he wrote lyrics for three of Khan's songs for which the singer never paid. "After recording his songs with Folk Studios, he got a chance to move to India. There he started marring Pakistan's image through his statements. By selling the records featuring Pakistani artists he posed financial losses to the country," said Saghar.

Blast from the past

Adnan Sami Khan - who famously claimed he wasn't a Pakistani, settled in Dubai and desperately tried to get Indian citizenship in 2001 - seems to have 'suddenly discovered' his love for Pakistan.

Happy ending

Faryabi said that Lahore exceeded all her expectations. She appreciated how well she was treated by her in-laws. Faryabi said that she is truly happy being Khan's wife. Isn't that what Zeba Bakhtiar and Sabah Galahdari also said?
COMMENTS
Comments are moderated and generally will be posted if they are on-topic and not abusive.
For more information, please see our Comments FAQ