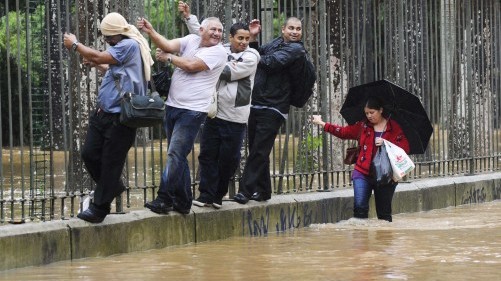 ---
RIO DE JANEIRO: Landslides and floods set off by the heaviest rains in decades killed at least 95 people in Rio de Janeiro state, making hundreds homeless, flooding roads and paralyzing Brazil's second city on Tuesday.

Mudslides swept away shacks in Rio's hillside slums,turning the city's main lake and the sea brown during the heavy rains that started on Monday and continued to fall through most of on Tuesday.

Most victims died in more than 180 mudslides, authorities said. Rio's fire service said at least 40 injured people were taken to hospitals as the search went on for others reported missing, and that the death toll was certain to rise.

Mayor Eduardo Paes warned residents to stay away from risky hillside areas and said public schools would stay closed for a second day on Wednesday as more heavy rain was forecast through the night.

Officials said 39 people died in metropolitan Rio, famous for its Carnival and beaches, and 41 were killed in Niteroi,the city on the other side of Rio's Guanabara Bay. The fire service said a total of 95 people were killed across the state.

The mayor said 1,200 people had been made homeless and that10,000 houses remained at risk, mostly in the slums where about a fifth of Rio's people live, often in precarious shacks that are highly vulnerable to heavy rains.

Morning flights in and out of the city of 6 million people-- which will host the 2014 soccer World Cup and the 2016Olympics -- were canceled or seriously delayed and many neighborhoods were cut off from power and transport.

Many companies shut down their offices for the day as torrents of water snarled traffic.

Joabes Araujo da Silva, a 21-year-old telemarketer, told Brazil's Globo news the mudslide swept away his house in the Buraco Quente neighborhood.

"I only got out of the house, which was full of mud, when my dad pushed the door open. We couldn't get out the window. It was the scariest thing when I saw the house I've lived in for20 years fall," he said.