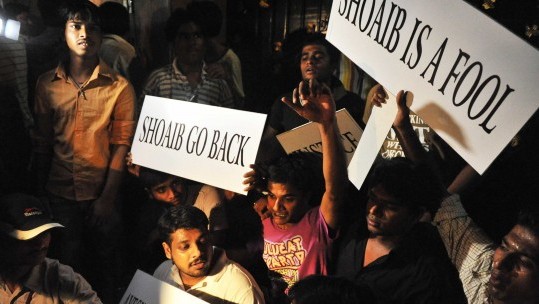 ---
HYDERABAD:

Shoaib Malik's family has arrived in India to meet the bride and the Mirza family.




Five members of Shoaib's family including his mother, 2 sisters and brother Adeel have arrived in India. Shoaib's third sister is also expected to arrive in New Delhi from Germany.




Shoaib's family stayed in Lahore before flying to India. None of the family members spoke with the media except Shoaib's brother Adeel. He said the Malik family is happy about Shoaib's marriage to Sania.




According to reports the divorce documents were signed and delivered to Ayesha Siddique this morning.


Speculations are also rife that Shoaib Malik and Sania Mirza tied the knot in Dubai before Malik landed in India a week ago.

Zee News reported that since Malik is staying at Sania's house in Hyderabad, it has been assumed that the Taj Krishna hotel has been booked not for the Nikah, but for a reception, scheduled to take place on April 15.

It said that Mirza's wedding card, which has only the reception date, has also added fuel to the fire in the case. The news comes at a time when several people have been claiming that the date of marriage will be postponed. Local community members, however, have suggested that Malik's staying at the tennis ace's house prior to the wedding and Mirza's supporting the cricketer despite all the allegations, prove the fact that they are already married.

Talking to Zee News, a person close to the Mirza family said that it is impractical to assume that the Mirzas and the Maliks did not expect trouble after making this announcement of an Indo-Pak marriage. "It is very likely that they possibly got married before going public with their wedding announcement," he added.

Meanwhile, the wedding controversy surrounding Shoaib Malik takes a surprising new turn.

According to the Indian media Shaoib Malik has signed the divorce papers which have been sent to Ayesha Siddique.


Ayesha Siddique's lawyer Farooq Hassan has confirmed the reports saying that the case against Malik was strong. Reports add that a compromise was brokered between Malik's and Ayesha's family last night. Farooq Hasssan commented that Malik had no option but to admit to the marriage.




While the major twist in the saga emerges, in related developments Shoaib Malik has slammed the Indian police for filing Siddiqui's FIR against him in haste.




In his letter to DGP and Andhra Pardesh top cop, Shoaib claimed the FIR against him is defamatory and derogatory in nature. He empahsised the Hyderabad police lodged FIR without even verifying facts.




Further highlighting the row with Siddiqui, Shoaib said he had the right to sue and prosecute Ayesha Siddiqui. He also demanded Indian authorities to return his passport which was confiscated by Banjara Hills Police after 2 hours of questioning.
COMMENTS
Comments are moderated and generally will be posted if they are on-topic and not abusive.
For more information, please see our Comments FAQ