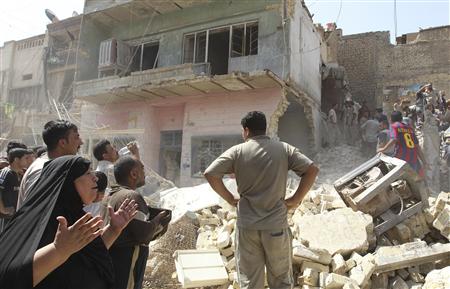 ---
BAGHDAD: Six bombs rocked Baghdad killing at least 39 people today, the second time the capital has come under attack in3 days, fuelling fears insurgents are making a return due to a political impasse.

The explosions destroyed residential buildings in mostly Shiite neighborhoods, with the Baghdad security spokesman, Major General Qassim Atta saying 4 of the bombs detonated inside the buildings. "6 bomb attacks in several neighborhoods of Baghdad occurred, and 7 buildings collapsed," an interior ministry official told AFP, speaking on condition of anonymity.

Officials say the latest explosion happened around 1 pm in a Baghdad market. The official added that 39 people were killed and 130 wounded, but several victims are thought to be trapped under the rubble of collapsed buildings.

Iraq's security remains fragile as the general election result remains unresolved.
COMMENTS
Comments are moderated and generally will be posted if they are on-topic and not abusive.
For more information, please see our Comments FAQ