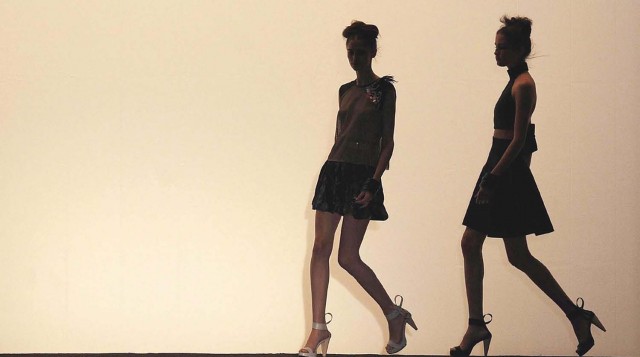 ---
The 1980s may have been an era of oppression, but it inspired an evolution in fashion and the end of the decade saw the birth of a promising music scene.

Designers such as Maheen Khan say that the 1980s was when fashion design really took off. Khan told The Express Tribune, "The 1980s were probably a landmark for fashion in Pakistan. The first real awareness of fashion and couture came to seed in that decade. We witnessed the birth of fashion shows, though mainly for charity and models worked gratis!"

Recalling how models worked at that time, she said: "I remember a groundbreaking show I did where I invited all the models to my home and then said that I was going to pay them, and that they were doing a job and must be paid. And the professional model was born!"

Fashion in Pakistan has come a long way since then. According to Khan, "By the time we hit the 1990s there was no looking back. There was a whole host of new designers joining the ranks of Bunto Kazmi, Noorjahan Bilgrami, Naheed Afsar, Florence Rizvi and myself. By the year 2000 the fashion bomb had exploded across the country. Today it influences every aspect of our lives and every segment of society, from coffee shops, cars, watches to hair, make-up and weddings and couture and street wear. Pakistan's fashion ambassadors have uplifted their country's image in a hugely positive way. Our designers have highlighted Pakistan's stunning indigenous crafts, versatile textiles and styles and more than anything, the huge pool of talent. The fashion designers of Pakistan are ready to take on the world. Today, fashion is finally a business to be taken seriously. We have finetuned it and adapted it to suit our lifestyles and culture."

Stylist Tariq Amin echoes the idea that fashion has come into its own, "Fashion is still making an impact. In the 1980s, there were a handful of people such Maheen Khan, Rizwan Beyg and Deepak Perwani. Now every second person is involved. It has become economically viable for people to be associated with the fashion industry."

Fashion trends have changed tremendously over the past two decades, echoing changes on a global level. Frieha Altaf, who worked as a model before becoming a choreographer and event planner, says "Fashion in the 1980s was over-the-top big hair, lace gloves, too much kajal and garish colour combinations."

However, the past two years have seen the revival of 1980s trends such as flashy bright colours, oversized shoulders and the obsession with tights, which Blair Waldorf in "Gossip Girl" gave an edict on in the show's last season: "Tights are not pants!"

Iconic style figures during the decade included Nazia and Zoheb Hassan, Imran Khan and Bollywood actors such as Sridevi and Dimple Kapadia. Fabric markets were full of sequinned materials in fuschia, orange and green.

The growth in the fashion industry also made way for coordinating sectors, such as make-up and skincare, to flourish. The few salons that existed at that time included Depilex, which was a favourite with brides-to-be.

Daulat Rahimtoola of Pivot Point says: "Most people visited salons for skincare treatment. One of the spots was Scruples at Holiday Inn during the early 1980s. There was a great show in 1987 which featured a French designer and Parisian models."

Published in The Express Tribune, July 17th, 2010.
COMMENTS
Comments are moderated and generally will be posted if they are on-topic and not abusive.
For more information, please see our Comments FAQ