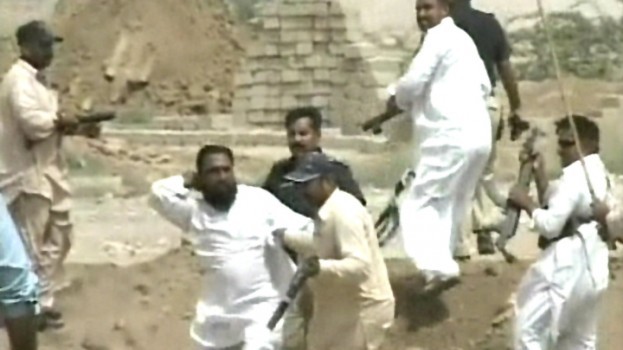 ---
KARACHI: Two persons were killed during firing as an operation against the land mafia in the Baldia Town area on Thursday.

The land mafia had grabbed 451 acres of the land which and the local government tried to seize the land from the mafia. The team sent for recovery was attacked by the mafia.

The police thereafter launched an operation against the mafia which led to a crossfire.

Hundreds came out of their homes to resist the operation by pelting stones against police personnel and their vehicles.

Police, in turn fired shots and tear gas shells to disperse the charged mob. One unknown man was injured in the firing.

Various illegal constructions in the cottage industry land were bulldozed during the operation.

Police later called in rangers for assisstance. A total of one hundred and seventy four acres of land has been occupied by people.

The operation came as a response to complaints by residents against illegal encroachments in their area. Protestors put up a strong resistance to stop police from entering the area.

According to earlier reports in the media, on Wednesday, the Anti-Encroachment Force of the City District Government Karachi arrested a "big land grabber" in its action against encroachers in Gadap town.

On June 10, Sindh Governor Dr Ishratul Ebad Khan issued the Sindh Public Private Property (Removal of Encroachment) Ordinance 2010 to ensure the removal of encroachments from public property and to retrieve possession of the land.

Under the ordinance, the Government or any authorised officer can direct the removal of encroachments within two days or as specified in the order.

According to the ordinance, if any authorised officer requires police assistance to take action against responsible people, he may send a requisition to the officer who is in charge of a police station within the premises of the public property.
COMMENTS (5)
Comments are moderated and generally will be posted if they are on-topic and not abusive.
For more information, please see our Comments FAQ