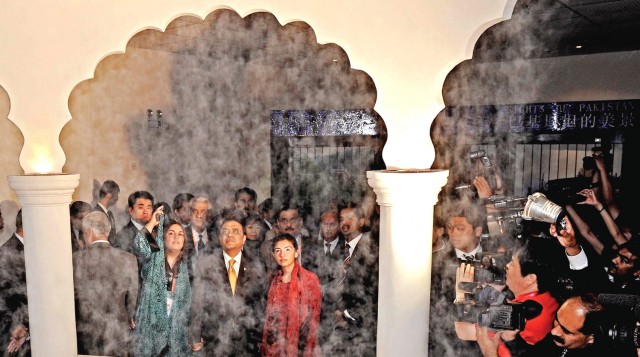 ---
China's rapid economic progress is a model for third world countries and Pakistan can learn a lot from the Chinese model of economic development, said President Asif Ali Zardari on Saturday during a visit to Pakistan and China pavilions at the Shanghai Expo 2010.

"Today China is the third largest economy of the world and because of its economic strength it is destined to play a great role in the new world order," Zardari said.

"Indeed the new world order cannot be conceived without China," he stated. The president said that China pavilion shows the soft power of the country that extends to Asia and beyond. "Pakistan is keen to learn from Chinese experience and economic development model," he said.

"There are great opportunities for Pakistan and China to collaborate. We are keen to learn from Chinese experience in modern agriculture, industrial development, conservation and development of water resources, as well as urban planning and development," he said.

On a different occasion, President Zardari urged Chinese alternate energy companies to make investments in Pakistan, as it has great economic potential.

"When I draw investors' attention to alternate and renewable energy, I ask for shifting from pollutant fossil fuel to clean sources of energy'' he added.

Addressing Pak-China Alternate Energy Forum in Beijing on Saturday, he said Pakistan needs power to meet energy demand and investors need new markets, where they were assured of steady and investor-friendly policies.

Zardari said it was an opportune time for businessmen to invest in Pakistan. "Today, the name of game is mixed fuel, to substitute fossil fuel with mixed energy comprising solar, wind and ethanol to save the world's future. When we talk about alternate energy, it means we are working for future generations," he said.

Published in The Express Tribune, July 11th, 2010.