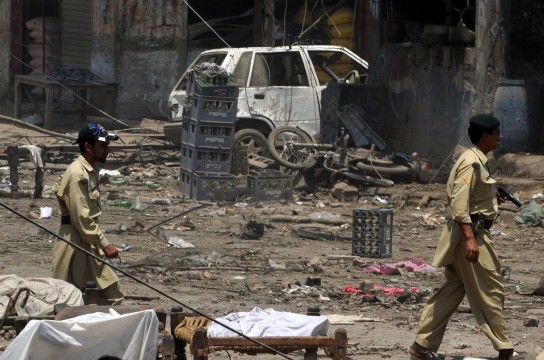 ---
A suicide bomber killed at least 55 people and wounded more than 100 in an attack outside Assistant Political Agent office in Mohmand Agency on Friday.

The explosion took place at the Yakaghund area of the lower tehsil of Mohmand Agency. According to reports, the suicide bomber was riding a motorbike. The political agent's office was targeted at a time when more than 150 people had gathered there to seek redress for various problems. Many elderly citizens had been queueing outside the office to receive government wheelchairs.

"The bomber blew himself up outside the office of an assistant political agent, killing himself and wounding dozens others," a government official, Mehraj Khan, told Reuters.

"There were two blasts. The first one was small but the second was a big one. Up to 45 people have been killed," RasoolKhan, assistant political agent of Mohmand tribal region, told Reuters.

The blast also damaged several cars and about 30 shops in a commercial neighborhood, witnesses said. The wall of a local jail is also reported to have been damaged in the attack.

Six children were among those killed. There are fears the number of causalities will rise as many are still trapped under the rubble. Rescue efforts are currently underway.

Several shops and vehicles in the area have been destroyed. The injured have been shifted to the Lady Reading and Shab Qadar Hospital. Security forces have cordoned off the area.

Security forces claimed to have cleared this northwestern area of Pakistan of militants, however recent incidents and reports have raised fears that militants are regrouping in the area.
COMMENTS (10)
Comments are moderated and generally will be posted if they are on-topic and not abusive.
For more information, please see our Comments FAQ