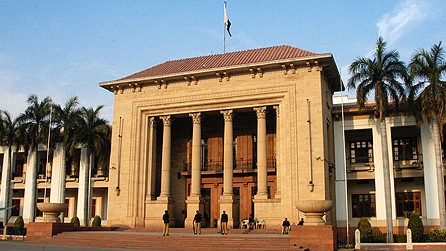 ---
The Punjab Assembly session on Thursday barely made the quorum and was adjourned in the afternoon to meet on Friday.

The thin attendance was pointed out first by opposition member Mohsin Leghari and again by Samia Amjad. The members of the opposition criticised the non-participant bureaucrats and threatened to walk out of the House.

The ministers' frustration mounted during the question and answer session as the secretary for the Local Government and Community Development failed to show up. Parliamentary Secretary Abdul Razaq Dhillon attempted to respond to the members' queries by constantly consulting handouts he was carrying. His answers however failed to satisfy the members and a PML-N MPA stated, "The secretary did not bother showing up for the session because he is away attending the auction of government vehicles. I want to know, which is more important?"

Nighat Nasir Sheikh, also of the PML-N, shot back, "My questions have not been answered properly. The answers provided are irrelevant since they do not address recent developments that have taken place."

She alleged that several plazas had been constructed on Allama Iqbal Road near Garhi Shahu without an approved plan.

She stated that she could prove that the plazas were constructed illegally.

The parliamentary secretary shrugged off the claim and stated that there were no such plazas.

On another question by Waseem Qadir (PML-N), Razzaq Dhillon fumbled and claimed that the local government had already removed all the cattle from the city. He was corrected at this point by Deputy Speaker Rana Mashhood, who directed him to check his facts and respond properly.

MPA Rana Tanveer Ahmed Nasir (Sheikhupura) brought up the topic of rampant crime and the inability of the police to control it. Rana Sanaullah's response that the police was performing its duties was accepting by Tanveer but infuriated Saghira Islam of the PPP.

She hollered that Sheikhpura, the minister's own district, had become the hub of proclaimed offenders and absconders.

Syed Hasan Murtaza of the PPP accused Hajveri University of jeopardising the future of 600 students by falsely stating that it had the authority to grant engineering degrees. The speaker informed the MPA that his motion would be addressed in a few days in the presence of the education minister.

"All the motions I have raised previously have been ignored. This one will not be treated any different," said Syed Hasan.

The Urban Immoveable Property Tax (amendment) Bill 2010 was also debated in the PA.

Published in The Express Tribune, July 9th, 2010.
COMMENTS
Comments are moderated and generally will be posted if they are on-topic and not abusive.
For more information, please see our Comments FAQ