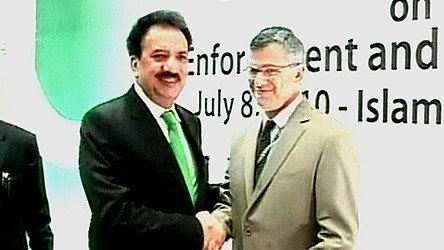 ---
ISLAMABAD:
Federal Interior Minister Rehman Malik has asked the US to repatriate Dr Aafia Siddiqui under international law.
Speaking to an American delegation in Islamabad, Malik also declared that Mullah Omar and Osama bin Laden are not hiding in Pakistan.
The comments were made during the Pakistan-US strategic dialogue held in the federal capital.Malik apprised the participants on Pakistan's policy against terrorism and the shortcomings of its security forces while fighting the war.
The second phase of the dialogue will see participants discussing how terrorism can be countered, and how security forces of both countries can increase cooperation.