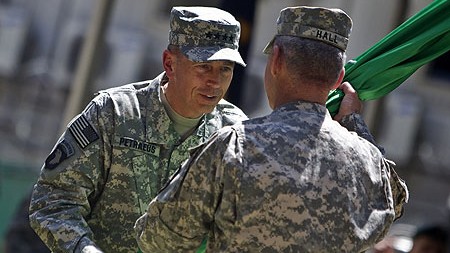 ---
KABUL: US General David Petraeus on Sunday formally took up his new role of commander of the Afghan war in a ceremony at Nato's headquarters in the capital Kabul.

The ceremony marked his assumption of command over the 140,000 US and Nato troops in Afghanistan fighting the Taliban-led insurgency. All 47 nations that make up Nato's International Security Assistance Force (ISAF) represented at the gathering, presided over by General Egon Ramms, Commander Joint Forces Command.

Petraeus arrived in Kabul on Friday to take over from US General Stanley McChrystal, sacked last month by President Barack Obama for insubordination.

The four-star general made his public debut on Saturday at the US embassy in Kabul at a reception to mark the Fourth of July American Independence Day.

In a short speech to an invited crowd of 1,700 -- including the American community, Afghan cabinet ministers and VIPs, diplomats and aid workers -- Petraeus said the war, now in its ninth year, was a joint effort.

"This is an effort in which we must achieve unity of effort and common purpose. Civilian and military, Afghan and international, we are part of one team with one mission," he said.

"On this important endeavour, co-operation is not optional." Ahead of his arrival, Petraeus said the Afghan war was likely to get tougher before significant improvements are seen.

"This is a tough mission, there is nothing easy about it. But working together we can achieve progress and we can achieve our mutual objective," he told the embassy guests.

Observers have said Petraeus faces a tricky task to bring peace and secure a face-saving exit for allied troops fighting the Taliban. He arrives as the deaths of US and Nato soldiers are touching record highs in intensified fighting, along with questions about the wisdom of committing huge resources in manpower and money to what could yet be a lost cause.

His appointment as commander of international forces in Afghanistan has been welcomed by local officials, including President Hamid Karzai, who is increasingly seen in the West as a loose cannon. But analysts have urged Petraeus to make immediate adjustments to turn around rapidly a war seen as bogged down to the Taliban's advantage.

"Petraeus must change the fundamental strategy of the war against the Taliban," said parliamentarian Ahmad Behzad. "A change in the leadership of foreign forces can only be effective if we see more serious steps taken against terrorists," he told AFP.

Despite assurances from Obama, and Petraeus himself, that the change of command does not mean a change in strategy, the general has already hinted some tweaks could be in the air.

Troops have complained that McChrystal's "courageous restraint" rule, aimed at minimising civilian casualties, prevents them from properly defending themselves -- thus contributing to the spike in casualties.

A total of 102 foreign soldiers died in June, almost triple the May toll and far outstripping the previous highest monthly figure of 77 in August. So far in 2010, more than 320 troops have died, compared with 520 for 2009.

"One of the reasons why we see the deteriorating security situation in Afghanistan is that the Afghan people are also not confident that America will remain in Afghanistan," said political analyst Haroun Mir.

"The biggest challenge for David Petraeus is the Afghan government and president Karzai himself. "If the Afghan government does not collaborate, if president Karzai does not own this war, then it will be very difficult for Petraeus to improve the situation."
COMMENTS
Comments are moderated and generally will be posted if they are on-topic and not abusive.
For more information, please see our Comments FAQ