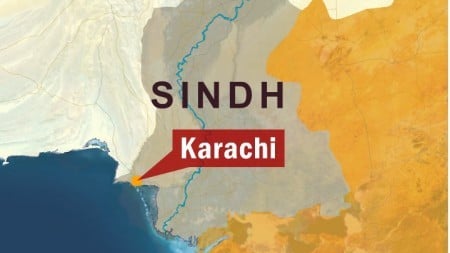 ---
The perpetual movement propelled by fear that is breaking her down. And yet Azra Ali must live a fugitive's life if she wants to stay alive.

At 21 years of age, Azra was declared a kari by the Drigh community at a jirga on April 19, when she ran away from her home in the Razi Dero village in Sukkur to marry the man she loved. Twenty-five-year-old Naseem Ali married Azra the day after her escape to offer her the protection of his name.

The couple has been on the run ever since, stay at one place for only a few days at the most so that the trail is made difficult for Azra's family to follow, as they have been since the day she fled.

"Back in the village, people often kill their children in the name of honour. They later go over to the police station, hand over the weapon and admit to killing their child.  The matter is resolved there and then," said Naseem, who was also a resident of Razi Dero and currently lives in Karachi with his wife.

Anyone who brings shame to the family is killed on the orders of a jirga, said Nadeem, who is now in contact with lawyers and protection agencies to shield his wife.

He has been in contact with the police station in Sukkur and has also appealed to the Sindh High Court, the Supreme Court and the ministry of human rights.

Azra said that three of her uncles, constable Abdul Rahman Drigh, constable Abdul Qadir Drigh and ASI Sikander Ali, were part of the jirga that proclaimed her 'kari' for refusing to marry her cousin.

"They were forcing me to marry a guy who walks on his hands. Why should I do that?" Azra asked.

Recounting the ordeals she faced during her escape, she described how she had been sent to an uncle's house in Ghokti after she refused to marry her cousin, where she was beaten for a week. Her family then told her that they wanted to take her to a shrine but along the way she saw a member of the jirga with an axe and understood that they had planned to kill her in a graveyard next to the shrine and bury her there. She told them she had to use the toilet and escaped in a rickshaw. She said, however, that the cuts on her wrists and other parts of her body only strengthened her will to escape and she finally managed to take a train to Karachi, call Naseem and contact officials from the law.

When her family heard of her marriage to Naseem, they declared him 'karo' as well and lodged an FIR against him. His in-laws also accused his family of helping him 'kidnap' Azra, after which they burnt down his family's house in the village and robbed them of all their valuables.

"When my mother went to lodge an FIR, she was thrown out of the police station," said Naseem, alleging that Azra's family has connections at the Agra police station in Sukkur, which is why his family was denied justice.

Naseem had been earning around Rs45,000 a month but had to leave his job at a telecommunications company as he is on the run with his wife. After losing his property back in the village to Azra's family, he is also unable to sell his land.

After a number of hearings at the SHC and numerous appeals at the SC, the latter ordered an inquiry into the case, after which the ministry of human rights suspended the police officers who were involved in the jirga.

Despite this, however, many people from Azra's family are still out to kill her. Azra, who says that she is happy with her husband, regrets that her family has shown no support or love for her.

"They have been blinded by their egos and illiteracy," said a tearful Azra, who was a pre-medical intermediate student. "I do not expect anything from them."

Published in the Express Tribune, July 4th, 2010.
COMMENTS
Comments are moderated and generally will be posted if they are on-topic and not abusive.
For more information, please see our Comments FAQ