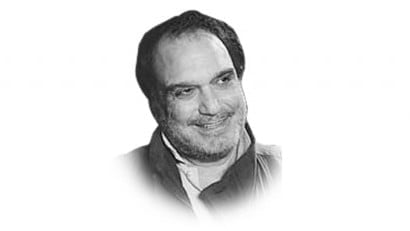 ---
Dr Justice (retd) Javid Iqbal has shocked us with views. His memoir Apna Gareban Chaak recalled Rousseau's Confessions. He has been rebelliously unworshipful of his great father, Allama Iqbal. But that doesn't mean that he seeks to build himself up at the Allama's expense. In fact, his story begins with his acting the prodigal son, unheedful of his father's last advice against extravagance, and ending in meeting his father's expectations of him.

Why does he live among us thinking that he has been put in a bottle labelled "son of Allama Iqbal" and sealed and thrown aside? Why does he complain that his effort to attain an identity of his own has been misunderstood as rivalry with his great father? The truth is he knew quite early that he was not like his father. When he was sailing to London in 1949 he noted that, passing the Saudi peninsula, he was not overcome by any feeling of desolation at not being "called" to Hejaz as his father was during his voyage.

What he did during his sea voyage was flirt like crazy, as revealed in his latest book Jahan-e-Javid Volume Two (Sang-e-Meel Publishers Lahore 2010). His diary reveals that, first day on the deck of Celicia, he attitudinised brazenly, pretending to write his first novel Mein hun Musalman. He was instead noticed by a 40-year old lady — to his 25— and soon a relationship developed (p320). She was rich and beautiful and quickly graduated from 'auntie' to an object of envy for other women (p323).

Javid looked dashing in a Jinnah cap and sherwani and was soon rated the best-looking man on deck by the women (p325). He was still mystified by her when "Auntie Gul" — not given to subtle hints, handed him a copy of Kama Sutra — "urian qism ki jinsi kitab", according to Javid (p326). That evening, when she danced with him she tended to cling a lot more than usual. But Gul couldn't play around with him. There was Kamla Malhotra on deck too, who was "nihayat khush-shakl" — and her mother thought he looked great in achkan and shalwar (p327).

Soon Auntie Gul was put off by Javid's growing intimacy with Kamla. Javid was dancing with almost all the ladies present on the ship. Then Gul introduced him to a real beauty, 30-35 year old Pamela Thomas — "haseen, ismart" — who knew she was beautiful (p328). Soon enough Pamela too was rubbing herself against him on the dance floor — "meray wujud kay andar dhans gaee" (p329). Meanwhile Kamla kept chiding him for being a ladies' man. Javid actually grows a little romantic when discussing this piano-playing Hindu girl.

There is obviously no carnal intimacy except for the dancing about which Javid was always very enthusiastic, hiring a teacher for it in Lahore. After all he was to meet his future wife Justice (retd) Nasira Iqbal in London on arrival. But his playfulness soon resulted in his losing his first three terms at Cambridge without a clue about what he had come there for (p335). Professor Arberry found that his lack of knowledge of Arabic, Greek and Latin disqualified him for research into Imam Ghazali and Imam Abu Hanifa. He finally plumped for an investigation into the theory of Islamic state and finally got his PhD in it.

Whatever you may say about Javid Iqbal, his life was far better planned than his father's, whose marriages were a mess, including the one with Javid's mother. In a way, he has written more clearly about the Islamic state and has done a better job of confronting the clerics. Allama Iqbal must have been pleased to know that he was no dud. He had stood first in MA Philosophy in Punjab and received a gold medal from Governor Mudie before leaving for Cambridge.

Published in The Express Tribune, July 4th, 2010.