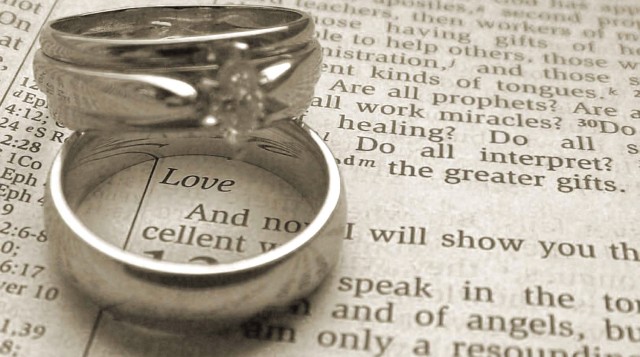 ---
I sat up there in ivory bridal regalia and the Beach Luxury Hotel buzzed with excitement. I was getting married. People were gliding in and out of a huge banquet hall. Some stared at me in amazement, some with relief (finally it was happening). My husband looked happy to be up there on the stage with me but irritated at the four hundred people who also happened to be there. We had had many an impassioned debate about this. And I had had glimpses into the mind of the man I was about to marry.

"I don't like big weddings," he had said. I thought this meant a mere three hundred instead of a thousand but no, he meant twenty people and something fun to drink. I shed tears and plaintively wailed, a feminine heap of helplessness. "My nearest and dearest have to be there, they have been waiting for so (embarrassingly) long." And so the head count went up, more than Henry the VIII's in-laws and less than at the average glitterati Karachi wedding.

I was pleased to see our guests drifting in and out of the huge room where Sohail and I greeted the world as man and wife. I suspect Sohail wanted to kill some of them not so much because he didn't like them but because the head count was so astronomically high for him. But he did smile with gritted teeth and a steely glint in his eyes (translation:if I see you in a dark alley one day I may wring your neck). Luckily our guests did not notice; they gushed over my lace 'jora' and were impressed with the punctuality with which the bride and groom appeared and dinner was served. This prompt serving of food may have been because my father was scared that we may change our minds and so he wanted to hasten our rukhsati. Dear ole dad, it's been a while since I wrote a piece about his entertaining antics. But back to hubby right now. This one's for him. Life with Dr Agha.

By the end of the evening, I had the not so sneaking suspicion that my new husband did not like crowds (more than three people was a crowd.)

The rukhsati happened in a fairly peaceful fashion. Sohail looked relieved, my father looked tremendously pleased (way more than was appropriate) and my brother whispered to me to stop walking so fast. I tried to imagine that I was being dragged to the flower-decked car instead of merrily trotting forth.

And so began married life.

I was somewhat startled at first by the interesting aspects of my husband's personality.

His passion for waking up at five-thirty in the morning and my parallel passion for sleeping in.

What this resulted in was gusts of sleep-induced behaviour on his part which would take place at what I considered dinner time.

Once, upon his return from a hectic trip to the Ukraine, he announced that he would take me to dinner to Commander's Palace, an amazing restaurant. This was New Orleans and dinner was always a mouth-wateringly delicious experience. Wearing my new burgundy skirt I happily stepped out with my fairly new husband. As the courses followed with slow, lingering grace, a sudden silence befell our table somewhere between the main course and desert. The elderly waiter, black bow-tie and all, leaned over, trying not to look traumatised and whispered to me, "Madam, I think your date has fallen asleep." And sure enough somewhere between the lobster and crème brule, Sohail was sweetly snoring. In a not so melodious fashion.

His explanation: exhaustion and a very early morning. As we exited this gourmet dining delight, we left behind, a perplexed looking waiter contemplating the oddity of dating rites in faraway, exotic Pakistan

It took me a while to figure out Sohail's physiology and the fact that sleep can happen very suddenly after ten pm. I've also learnt that if I put him to bed for an afternoon nap (on weekends) along with our four year old then he can stay up late and some semblance of social behaviour is possible.

The truth is that all this was exasperating at first as was his insistence on physical exercise and love of wild animals.

"Just send me for exercise and I'll be a sweeter person."

This sounded like double Dutch at first but gradually it all became clearer.

Sohail Agha, on an evening without exercise can at times be a spooky phenomenon especially around guests.

Unexpected visitors have been glared at with barely concealed brutality and I am convinced that my husband has harboured notions of bottling them up like jars of pickles. However on his way back from exercise, the same visitors are greeted with unabashed affection and genuine generosity. Needless to say the guests are confused and after some months of such behaviour, our household is now a quiet place in the evenings where visitors prefer not to tread.

A sign outside our house should read "Exercise or Exorcise".

Another cause of confusion for me was his love of jungle animals. Every weekend in New Orleans we would make a customary visit to Audubon zoo. It was hard to make out who was more excited about the zoo, my forty-something Sohail, or four year old Mustafa. Feeding the giraffe, petting the python and the elephant dance all contributed to a fairly fascinating morning.

On one such weekend, we had guests from Pakistan, staying with us for just two days. They were told, in no uncertain terms that we were leaving for the zoo at ten a.m. The female guest was ready in time but her husband (alas) was enjoying his shower and his holiday.

He was left behind. According to Sohail, it was not possible to be late to the zoo. Our lady guest looked a bit shattered at leaving hubby behind. I'm sure she was relieved when he showed up, several bus rides later, having navigated his own way to the zoo.

One of the first things he said to me after the nikah was, "Let's not treat each other like husband and wife." Perplexed, I blinked away little tears (always waiting to happen) did that mean that he did not want to be married? It took me a while to figure out that he did want to be married and preferably for a long while. What he meant was let's do away with the stereotypical expectations and treat one another as equals, as the people we love and respect the most and whose needs are changing and fluid.

Over the past six years, I have realised many things. My husband's idiosyncracies pale in front of his great qualities. His ability to speak the truth, come hell or high water. His gut instincts and ability to recognise sincerity in the most unlikely of people and his uncanny knack of weeding out pretentious and petty characters before they immerse themselves in our lives. His clear thinking, pro-active stance which has made me more adventurous and more accomplished than ever before. His courage in adversity and more significantly the courage of his convictions.

But most of all, when I get a little time to reflect, I realise that when my mother left this world, she left me in the care of a man who has made me feel completely cherished. And so I have learnt during the course of married life, to appreciate the beauty in jungle animals, the tranquility in early mornings and the sense in speaking your mind. With an honest man, you will know that you are honestly loved.

Published in The Express Tribune, July 4th, 2010.
COMMENTS (8)
Comments are moderated and generally will be posted if they are on-topic and not abusive.
For more information, please see our Comments FAQ