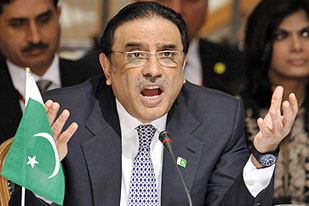 ---
ISLAMABAD: President Asif Ali Zardari on Wednesday called for protecting democracy and democratic institutions, saying that the PPP-led coalition government would complete its five-year constitutional term regardless of scathing criticism from its rivals.

The president was speaking at the launch of balloting for the Waseela -e-Haq programme of the Benazir Income Support Programme on Wednesday at the Presidency.

Zardari's statement came a day after his main political rival, Nawaz Sharif, the chief of his own faction of the Pakistan Muslim League, issued a veiled warning to the government asking it to "mend its ways" and "stop conspiracies against the judiciary." President Zardari said when there was a law on the statute book requiring politicians to have bachelors' degrees for contesting elections, no one asked about the academic qualifications of elected representatives. "But strangely, now when the said law has been repealed, certain people are agitating the issue of degrees of lawmakers and seeking to disqualify them," he added.

The president urged detractors not to "malign parliament and democracy", saying that parliament was capable of defending itself. He said parliament asserted itself when it "democratised" the constitution and gave the people of Pakhtunkhwa their identity. He was referring to the 18th constitutional amendment, under which he surrendered some of his powers to parliament and the NWFP was renamed Khyber-Pakhtunkhwa.

Zardari said the government's initiatives, such as the Benazir Income Support Programme, distribution of state land free of cost in command areas of 32 small- and medium- dams among women of that areas and the offering of 12 per cent stock shares to workers in state- run enterprises through the Benazir Employees Stock Option Scheme would help banish poverty from the country.

The president on the occasion congratulated members of National Assembly for passing a bill providing for the establishment of the BISP and hence inscribing the name of Benazir Bhutto into a law that is meant for the uplift of the poor.

Published in The Express Tribune, July 1st, 2010.
COMMENTS (3)
Comments are moderated and generally will be posted if they are on-topic and not abusive.
For more information, please see our Comments FAQ