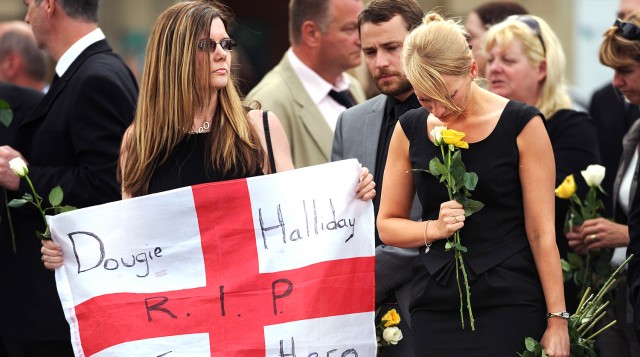 ---
Thousands of mourners lined the streets of a British market town on Tuesday to pay their final respects to seven servicemen killed in Afghanistan, as their bodies were brought home.

Families of the British men wept as hearses draped with the Union Jack passed through Wootton Bassett, in southwest England, after being repatriated to a nearby airbase, RAF Lyneham.

The sight of dead servicemen passing through the small town has become frequent as the British death toll in the Afghan conflict mounts.

But seven bodies being brought back at the same time is rare and left many overcome with emotion.

"I'm here to pay respects to these young lads," said Bill Baldam, 63, who served with the RAF fire service for 12 years.  "It could be my son, it could be my brother. When the mothers turn up with the children it hits you in the stomach," he added.

Relatives placed flowers on top of the hearses as they paused for a minute's silence next to the town's war memorial. The quiet was broken only by the sound of weeping and church bells ringing.

The bodies of British servicemen killed in Afghanistan are repatriated to RAF Lyneham – a major air hub for the British forces' Afghan war effort – and are then driven through Wootton Bassett in hearses.

The grim and emotionally charged ceremonies have transformed the small town into a focal point for the nation's mourning.

Four of the soldiers brought back on Tuesday – Lance Corporal David Ramsden, Colour Sergeant Martyn Horton, Private Alex Isaac and Private Douglas Halliday – were killed on June 23 in southern Helmand province when their vehicle rolled into a waterway.

They had been part of a police advisory team travelling to attend an incident at a checkpoint. Sergeant Steven Darbyshire was killed in a firefight with insurgents in the Sangin district of Helmand on June 23. Lance Corporal Michael Taylor was killed in a firefight in Helmand on June 22. Marine Paul Warren was fatally injured in an explosion during an insurgent attack on June 21. Britain has around 9,500 servicemen in Afghanistan and is the second biggest contributor of troops to international forces after the United States.

A total of 309 British servicemen have been killed in Afghanistan since operations began there in 2001. Twenty servicemen have so far been killed this month.

Published in The Express Tribune, July 1st, 2010.