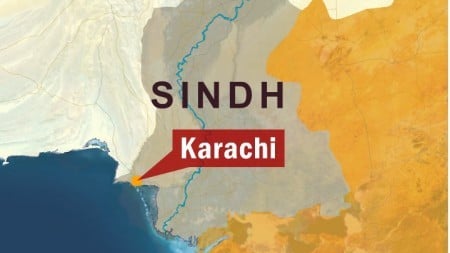 ---
KARACHI: A woman was killed and her niece injured when four men on two motorcycles opened fire at them near the Dua Chowk within the limits of the New Karachi police station on Monday.

Eye-witnesses said that the two women were waiting for a bus to get to a factory near the Dua Chowk Lal Shahbaz Nagar, Sector 5-E, New Karachi Industrial area, when armed men opened fire at them.

Nasreen, 35, received three bullet wounds and died on her way to the hospital, whereas her 23-year-old niece, Rani, received two bullet wounds and was taken to Abbasi Shaheed Hospital in critical condition.

Eye-witnesses said that they had followed the attackers but were forced to stop after the accused opened fire at them, injuring 35-year-old Naeem, who was also taken to Abbasi Shaheed Hospital. Meanwhile, the accused men managed to escape while the number plate of one of the motorcycles was identified as KDW-8010.

Eyewitnesses termed the incident as a targeted killing after Rani wrote "Ahmad" on a blank piece of paper on her way to the hospital.

SHO Abdul Gaffar Lakho, however, told The Express Tribune that while they suspected the involvement of a man named Ahmad in the case, the incident was not considered a targeted killing.

"Currently, it looks like Ahmad wanted to befriend either Nasreen or Rani and was following them. But when they rejected his approaches, he tried to kill them both," the SHO suspected. He added, however, that the real story can only be revealed after Rani's condition stabilises and she records her statement with the police.

"The initial investigations suggest that a boy named Ahmad was in love with either Nasreen or Rani and, after failing in love, he attacked them," said Senior Investigation Office (SIO) Ajab Khan, who added that the police was trying to trace Ahmad down and hoped that the criminals will be arrested soon. Khan also said that Rani's family knows nothing about an Ahmad.

Sources revealed, however, that the police have arrested a boy named Ahmad but have yet to disclose his identity. They added that Ahmad is a bus conductor and was Rani's "lover". Rani's father is also a bus conductor, sources revealed.

Published in The Express Tribune, June 29th, 2010.
COMMENTS
Comments are moderated and generally will be posted if they are on-topic and not abusive.
For more information, please see our Comments FAQ