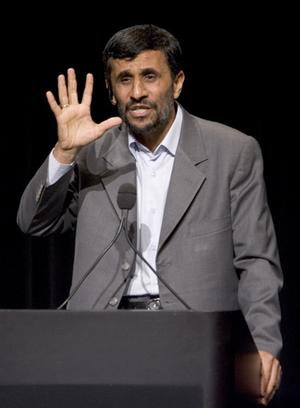 ---
Iran will "discipline" the West by holding off talks with world powers over Tehran's nuclear programme until the end of August, President Mahmoud Ahmadinejad said on Monday.

The hardliner said at a Tehran news conference that Iran would also seek the inclusion of Brazil and Turkey in nuclear fuel swap negotiations with the United States, France and Russia.

Asked when Tehran would talk with world powers over its overall nuclear programme, Ahmadinejad said the "negotiations (would likely occur) after the middle of Ramadan," around the end of August.

"We are postponing the talks because of the bad behaviour and the adoption of the new resolution in the (UN) Security Council. This is a penalty, so that they (world powers) are disciplined to learn the way of talking to other nations."

The United Nations Security Council imposed a fourth set of sanctions on Iran on June 9 for refusing to halt its sensitive uranium enrichment work.

Speaking on the separate issue of the nuclear fuel swap deal, Ahmadinejad said Iran was ready to talk, "but the talks will be held on the basis of the Tehran Declaration."

Ahmadinejad also rejected the remarks of the chief of Central Intelligence Agency, Leon Panetta, that Iran could have nuclear weapons ready to use by as early as 2012. "We have clearly declared that the nuclear bomb belongs to politically retarded governments who lack logic," Ahmadinejad said.

"What good is an atom bomb to anyone? The stupidest thing today is accumulating atomic weapons. They seek accomplices in the crime and Iran will not be an accomplice in their crime. We are standing firm on disarmament."

Speaking on US television, Panetta said on Sunday that Iran has manufactured enough low-enriched uranium for two atomic weapons.

Earlier on Monday, Iranian foreign ministry spokesman Ramin Mehmanparast said that Panetta's remarks were part of a "psychological warfare" against Iran.

Western powers led by Washington suspect Iran is masking a weapons drive under what Tehran says is a civilian atomic programme.

The UN sanctions imposed earlier this month were followed by unilateral measures by the United States and European Union targeting Iran's energy sector and its banking industry.

Iranian officials, including Ahmadinejad, have dismissed the sanctions and vowed to continue with the country's nuclear programme.

Published in The Express Tribune, June 29th, 2010.
COMMENTS (1)
Comments are moderated and generally will be posted if they are on-topic and not abusive.
For more information, please see our Comments FAQ