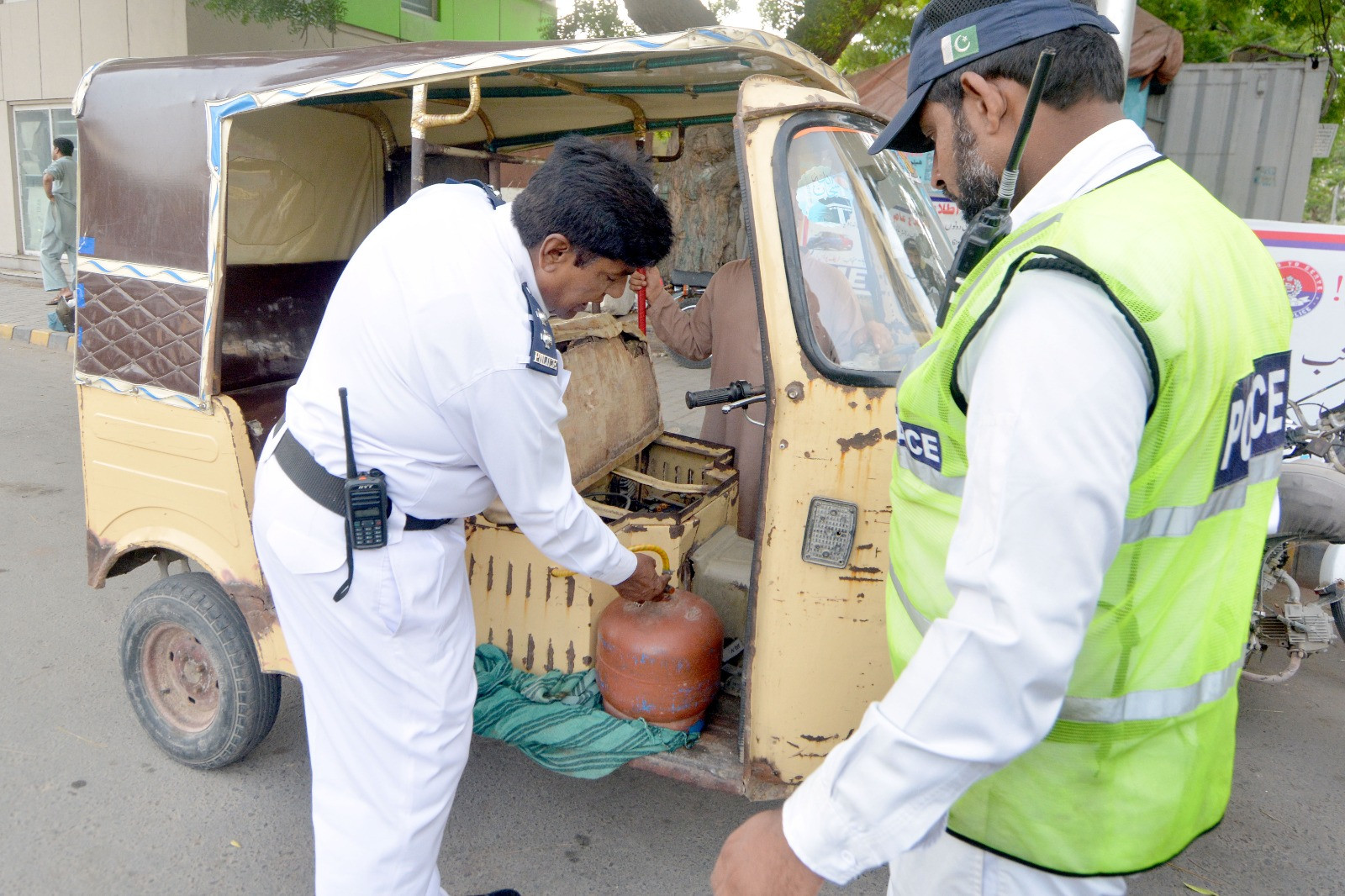 ---
KARACHI:
Peaking petrol rates amidst heightened economic uncertainty have pushed a large segment of the low-income population towards inexpensive public transport like Liquefied Petroleum Gas (LPG) fitted rickshaws which might be cheap enough to cost them fewer dimes but are catastrophic enough to cost them their lives.
In an attempt to cut back on costs following the spike in petrol rates, many rickshaw drivers in the port city have increasingly started turning to alternative fuel sources like LPG for short route journeys however, the haphazard move has raised concerns among citizens and transport regulatory authorities alike who fear not only for the safety of the passengers and drivers on board but also for the locals nearby who could suffer serious injuries in the event of an explosion.
"Since private travel is no longer an option for us given the current price of petrol, rickshaws are an easily accessible, cheap transport option for low-income people. However, since many rickshaws are now using LPG cylinders, we face a constant threat to our safety since these cylinders are known to be highly explosive," deplored Sufyan.
Also read Retailers selling LPG Rs23 above the official rate
Concurring with Sufyan on the hazards of travelling in LPG rickshaws, Umair, a rickshaw driver, felt that nowadays many drivers were opting for substandard LPG cylinders as a desperate attempt to control costs amidst soaring petrol rates. "Peaking petrol rates have caused LPG cylinders too to become costly therefore most drivers chose low quality, inexpensive cylinders which can be like a bomb on wheels," alerted Umair.
According to Rizwan, a rickshaw engine mechanic, the trend of installing substandard LPG kits in rickshaws is accelerating rapidly. "Even though we prefer installing high quality LPG kits in rickshaws, drivers are adamant at installing cheaper versions which are very unsafe," claimed Rizwan.
On the other hand, rickshaw drivers are of the opinion that high inflation has made it difficult for them to invest in safer fuel options. "Using a LPG cylinder costs half as much for the same route as compared to other fuel options," justified Mohammad Faisal Khan, owner of a six-seater rickshaw, who further added that most of the three and six seater rickshaws operating in the city were fitted with these cylinders.
While substandard LPG cylinders might be a cost-effective option for rickshaw drivers they nevertheless come with an added risk for the passengers on board. "The cheaper the cylinder the more likely it is to explode," affirmed Khalid Khan, a shopkeeper selling LPG cylinders, who went on to add that low quality cylinders cost Rs 3,000 whereas the high-quality ones cost Rs 6,000.
"I advise rickshaw drivers to replace the cylinders every three months and also to keep check on any leakages that might come about. If such precautions are not taken, a deadly explosion can occur any time," claimed Khan.
In their response to the concerns of citizens, officials from the Transport and Mass Transit Department conveyed that the process of identifying and removing hazardous LPG installations was underway and would soon be expedited. "We are taking strict action against rickshaw drivers who are using LPG cylinders and are putting the lives of passengers on thin ice. We have already ordered a number of drivers to remove these cylinders from their vehicles immediately, unless they want to face serious charges," said a spokesman from the Karachi Traffic Police, while speaking to The Express Tribune.
Published in The Express Tribune, September 11th, 2023.