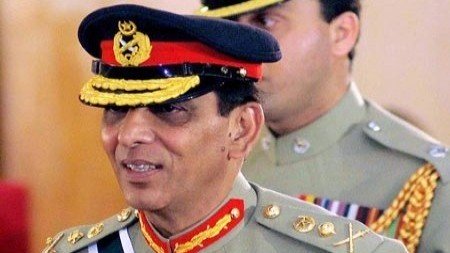 ---
ISLAMABAD: Chief of Army Staff General Ashfaq Parvez Kayani and Director-General of the Inter Service Intelligence (ISI) Ahmed Shuja Pasha will be in Kabul for a "morning-to-evening trip" on Monday, ISPR chief Major-General Athar Abbas told The Express Tribune on Sunday.

According to Gen Abbas, both Kayani and Pasha are on a 'routine' trip.

Pakistan's top military leaders will be arriving in the Afghan capital to discuss various aspects of a new counter-insurgency plan with Afghan and allied leaders. The plan is said to be making considerable headway.

Although the visit is ostensibly to attend a gathering of a tripartite commission of Pakistan, Afghanistan and allied forces, officials said there is also a possibility of a bilateral meeting with President Hamid Karzai. However, this was not confirmed by Gen Athar Abbas.

The visit is taking place on the heels of reports that Karzai had earlier held two meetings with Afghan Taliban commander Maulvi Sirajuddin Haqqani, whose group is based in Pakistan's North Waziristan tribal region.

There are speculations that Pakistan is pushing for a 'deal' between Karzai and various warring factions of Afghan Taliban, allowing them to have a place in any future political dispensation in Kabul.

Kayani has during the past week been holding meetings with various top political and military officials of the United States, Britain and Afghanistan.

On Friday, US Chairman of the Joint Chiefs of Staff Committee Admiral Mike Mullen met him in Rawalpindi.

A day ago, William Hague, the UK secretary of state for foreign and commonwealth affairs, discussed with Pakistan's military chief the prospects of a negotiated settlement in Afghanistan.

US special envoy for Afghanistan and Pakistan Richard Holbrooke and Afghan Foreign Minister Zalmai Rassoul were also among those who met Kayani during the week.

Admiral Mike Mullen is already in Afghanistan and discussed with Karzai last week the new scenario emerging out of the sacking of Gen. Stanley A McChrystal, the allied commander in the country.

Experts believe visit by Kayani and Pasha to Kabul might have impact on the future of reconciliation plan initiated by Karzai to attract Taliban to a negotiating table.

Published in The Express Tribune, June 28th, 2010.
COMMENTS (17)
Comments are moderated and generally will be posted if they are on-topic and not abusive.
For more information, please see our Comments FAQ