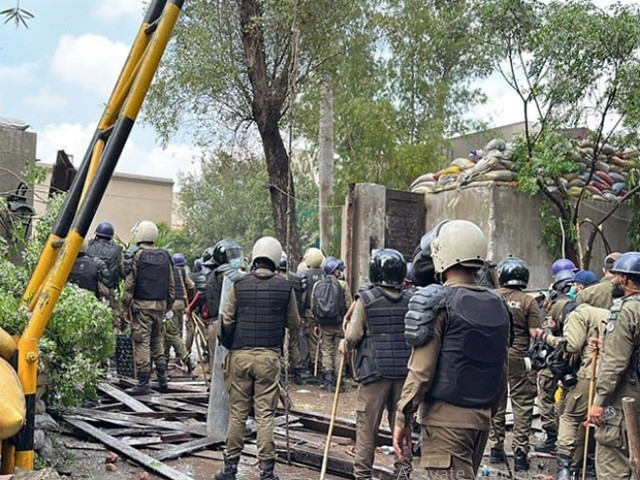 ---
LAHORE:
The Pakistan Tehreek-e-Insaf (PTI) on Saturday filed a petition in Lahore High Court against today's search operation conducted at former prime minister Imran Khan's Zaman Park residence by the Punjab police, allegedly violating the TORs agreed by the provincial administration, police and PTI leadership.
The petitioner, PTI leader Fawad Chaudhry filed the petition through advocate Azhar Siddique, requesting the court to pass directions to chief secretary, Inspector General Police (IGP) Punjab, caretaker chief minister Punjab and others to immediately stop and refrain from restarting the "illegal operation" in future.
The petitioner contended in his petition that a brutal and illegal police operation by the use of force and heavy artillery is underway at the residence of PTI chief and former prime minster Imran Khan in sheer disregard of privacy of female citizens including the wife of Imran Khan.
The operation seems to have been 'evilly designed' to be run as soon as Imran Khan left for Islamabad to appear before a court in Toshakhana case.
Read more: Police launch surprise 'assault' on Imran's Zaman Park residence
"The illegal unlawful operation is being carried out by the police which is also the sheer violation of the TORs agreed on March 16,2023 by and between the members of provincial administration of Punjab and PTI concerning security, jalsas, rallies, processions and other points.
"This petition was filed to protect the fundamental and political rights in view of the most recent police operation being brutally carried out at Zaman Park despite reaching to the TORs. Police damaged personal property of PTI's head Imran Khan as well as have broken into his house by dismantling the main entrance gate of his house through using a crane. The act of the police is a sheer violation of article 9,14,15,16,23 and 24 of the Constitution of Islamic Republic of Pakistan 1973. The natural, fundamental and constitutional right of privacy of the petitioner has been seriously jeopardized by the arbitrary and unlawful operation.
"Everything was settled regarding execution of search warrants between provincial administration, police and PTI through the TORs."
COMMENTS
Comments are moderated and generally will be posted if they are on-topic and not abusive.
For more information, please see our Comments FAQ