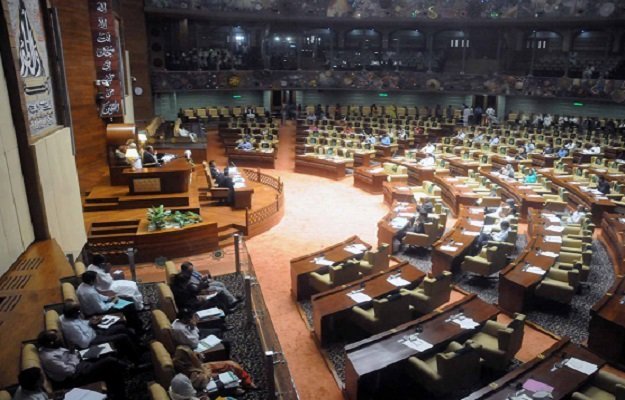 ---
KARACHI:
The Sindh Assembly on Tuesday adopted a unanimous resolution to declare Sindhi as a national language.
The resolution was moved on the occasion of International Mother Language Day observed worldwide on February 21 to enhance awareness about linguistic and cultural diversity and promote multilingualism.
In a bipartisan move, lawmakers from either side of the aisle agreed to defer the routine agenda and discuss the issue.
PPP's Heer Ismail Sohu and Syeda Marvi Rashdi moved the resolution that was read and signed by the members of Muttahida Qaumi Movement (MQM), Pakistan Tehreek-e-Insaf (PTI), Muttahida Majlis-e-Amal (MMA) and the Grand Democratic Alliance (GDA).
"Not just Sindhi, but the local languages of all provinces must be declared national languages," Sohu said. She added that a bill in this respect was moved in the National Assembly, and call for its passage sans delay.
"We are proud of being Sindhis and a 5,000-year-old civilization. Wherever we go, Sindhi is our identification," she said while requesting the education minister to take action against schools that weren't teaching Sindhi as a subject.
Mohammad Hussain of MQM while supporting the resolution said that every child must be taught their mother language at the school.
"Ideally, we Pakistanis should know all the languages being spoken in our provinces," he said and referred to some research studies, which have proved that children understand at schools better in their mother tongue.
Education Minister Sardar Shah cited the example of India, saying it had declared 26 languages including Sindhi as their national language. "Why are delaying tactics being adopted in Pakistan?"
He said that during the British era, it was mandatory for government officials to learn Sindhi. "People in East Pakistan revolted when their Bengali language was not accepted as national language," Shah said.
Nand Kumar Goklani of GDA, while moving a resolution on the same issue, said that all other provinces must take up this issue seriously in order to declare their languages national. "All the languages are sweet. Mother tongue helps in providing a definite shape to our emotions and thought," he said.
Syeda Marvi Rashdi, one of the movers of the resolution called upon the education department to make sure that schools across Sindh teach Sindhi as a compulsory subject.
Ismail Rahu of PPP was of the view that there were around 60 different languages in Pakistan and a lot of them had vanished because "successive governments did not take any effort to promote them".
Sanjay Gangwani of PTI asked the provincial government to approach the federal government to get this bill passed.
Abdul Rashid of MMA, Kulsoom Chandio and Syed Qaim Ali Shah of PPP also spoke on the issue. Later the session was adjourned till Friday.
Published in The Express Tribune, February 22nd, 2023.
COMMENTS
Comments are moderated and generally will be posted if they are on-topic and not abusive.
For more information, please see our Comments FAQ