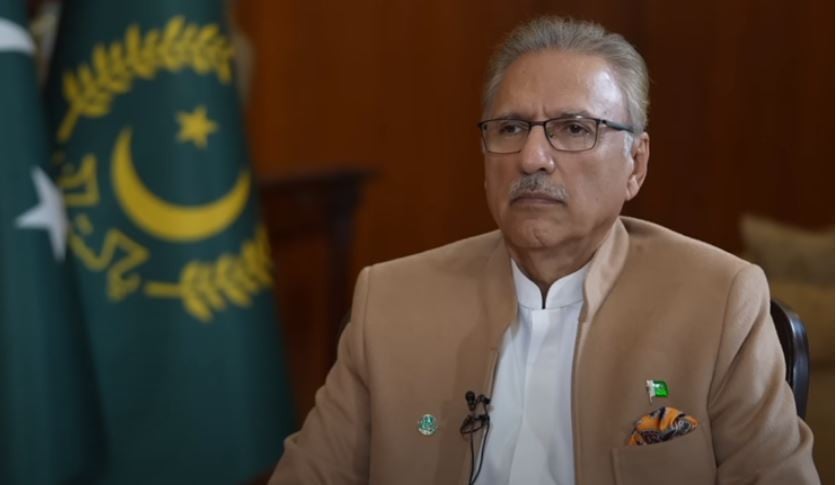 ---
PESHAWAR:
President Dr Arif Alvi has claimed that a deadly suicide bombing that targeted a mosque in Peshawar last month was carried out with the use of phosphorus, a dangerous chemical.
During a day-long visit to the Khyber-Pakhtunkhwa capital on Tuesday, President Alvi expressed regret over the loss of life in the terrorist attack and expressed his resolve to eradicate terrorism with the support of the government and armed forces.
The president made the statement while speaking to the media at the CM House. Caretaker Chief Minister Azam Khan and provincial minister Syed Masood Shah were also present on the occasion.
President Dr. Arif Alvi talks to the media after inquiring about the health of the patients, injured during the Police Line terrorist attack, at Lady Reading Hospital. pic.twitter.com/EJSbu4KkOH

— The President of Pakistan (@PresOfPakistan) February 7, 2023
The president visited the Lady Reading Hospital, where he enquired about the health of those injured in the bombing and expressed his solidarity with the families of the victims. He also noted with satisfaction the quality of medical treatment provided to the injured and appreciated the government's announcement to provide compensation to the families of the victims.
According to recent investigation findings, the suicide bomber used trinitrotoluene (TNT) in the blast and DNA evidence from the bomber's remains has been matched to samples, providing a clearer picture of the incident. The banned Tehreek-e-Taliban Pakistan (TTP) claimed responsibility for the attack, which is considered the worst terror attack in the country in years.
Expressing regret over loss of innocent lives in the terrorist attack, the president said: "Phosphorus is very damaging and its shockwave is very high. Phosphorus was used in the explosive device".
Also read: DNA from Peshawar bomber's head, hair matches with body
The president said the nation and the security forces had fought against terrorism in an unprecedented manner in the past and they would once again collectively fight the menace.
He said he had to wait for the visit in order to avoid any obstruction in the relief and rescue activities.
President Alvi said the nation stood with families of the martyrs and prayed for the speedy recovery of the injured.
He also appreciated the announcement made by government to provide Rs2 million to heirs of each martyred and Rs0.5 million for each injured person.
COMMENTS
Comments are moderated and generally will be posted if they are on-topic and not abusive.
For more information, please see our Comments FAQ