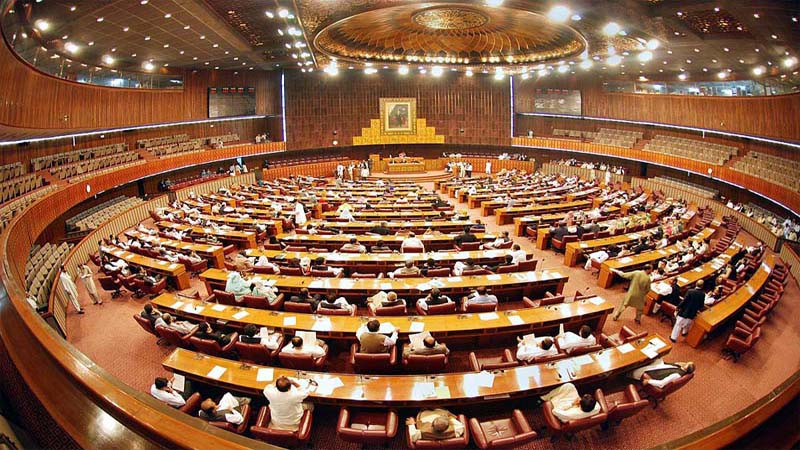 ---
ISLAMABAD:
The National Assembly on Monday passed the Trade Dispute Resolution Bill, 2022 aimed at enhancing the foreign buyers' trust in Pakistan and help exporters to file claims and complaints in Pakistan against their foreign clients.
Minister of State for Law and Justice Shahadat Awan on behalf of Minister for Commerce Syed Naveed Qamar piloted the bill in the House to provide for the establishment of a comprehensive regime in Pakistan for the swift and effective resolution of disputes relating to the export and import of goods and services including import and export through e-commerce as reported by the Standing Committee.
The statement of objects and reasons of the bill says that due to the absence of a proper trade dispute resolution mechanism, Pakistan's ranking on the Ease of Doing Business (EODB) Index of the World Bank is being adversely affected.
With this, contract enforcement will also improve, leading to a better place for Pakistan on the EODB Index.
Meanwhile, two government bills including the NFC Institute of Engineering and Technology Multan (Amendment) Bill, 2023 and the Trade Marks (Amendment) Bill, 2012 in the National Assembly.
The bills were moved by Minister for Parliamentary Affairs Murtaza Javed Abbasi and Minister of State for Law and Justice Shahadat Awan in the House respectively.
Deputy Speaker Zahid Akram Durrani referred both the bills to the concerned standing committees for detailed deliberation.
COMMENTS
Comments are moderated and generally will be posted if they are on-topic and not abusive.
For more information, please see our Comments FAQ