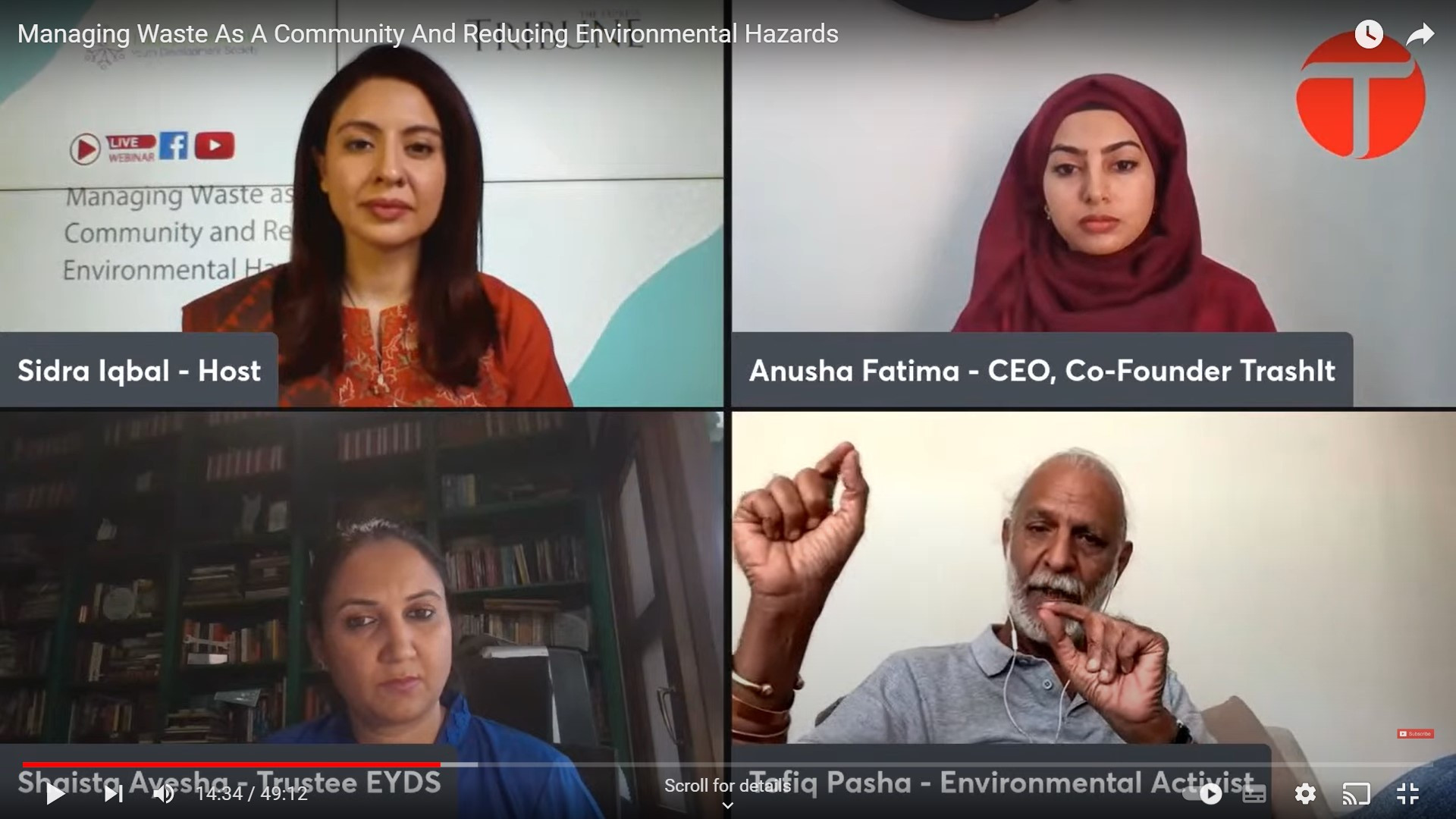 ---
KARACHI:
There is a dire need for companies in Pakistan to make a concerted effort to package products using minimal amounts of plastic to save the environment.
This was the crux of webinar hosted by The Express Tribune, which joined hands with the Entrepreneurship and Youth Development Society to organise the virtual event.
The webinar titled "Managing waste as a community and reducing environmental hazards," which was hosted by Sidra Iqbal along with panelists speakers Shaista Ayesha, social impact specialist and trustee Entrepreneurship and Youth Development Society, Tofiq Pasha, environmental activist, as well as, Anusha Fatima, CEO and co-founder Trashit.
The role of community, educational aspect of waste management initiatives and how to induce behavior change towards sustainable management of waste were some of the many areas covered during the discussion.
Tofiq doubled down on the need for a clearly defined policy and regulatory environment to encourage private enterprise to produce less waste.
The environmental activist said that packaging of products with heavy plastic use is a matter of convenience has created this huge amount of waste, adding that, "With design and material, a huge responsibility lies on the utility sector manufacturing how we produce waste."
He gave an example of how Japanese fans at the FIFA World Cup 2022, not only picked up their own trash but also helped clean up entire the stadium.
"Japan has enforced waste management education in schools, universities, and workplace --- it shows the impacts," he stated.
Tofiq, who also teaches sustainable ways of living shared that "When we teach children to be more conscious of waste management, we are targeting a whole generation to be more environmentally conscious.
Pakistan currently generates about 49.6 million tons of solid waste per year, which is increasing by more than 2.4 per cent per each year.
The panelists discussed Pakistan's lack of waste management infrastructure like other developing countries, which creates serious environmental problems.
Role of community in waste management
Pasha emphasized on how each citizen can help solve this problem by being more aware of how much waste they produce, how they dispose of them, and what products they dispose of.
Discussing the importance of integrating reuse, recycling, and regeneration in daily life. He explained how many inorganic waste ingredients can be recycled in-house and ways to do so.
Anusha said "we have become so immune to the issue of waste, the way it's being managed, our approach is that somebody else needs to takecare of it, we are not recognising our own responsibility."
The negative health and environmental impacts due to dumping, landfilling, and burning were also discussed during the webinar shared on The Express Tribune's Facebook and YouTube.
While speaking to host, Shaista who is a social impact specialist, touched upon the importance of the role of the community and discussed how a lot EYDS work is related to waste management.
Shaista also stated, "While working with donors and partner on waste management, the outcome of every successful project indicated that the only sustainable way to deal with this is to work on behavioral change and engage with communities to taking ownership of the waste problem."
Raising awareness
The panelists suggested that government, non-governmental organizations (NGOs), local authorities should launch awareness campaigns to educate the public on the importance of proper waste management.
The webinar concluded that community, local authority organizations and the private sector can participate in more sustainable practices to create jobs and businesses, leading to a healthier and more environmentally friendly cities.
COMMENTS
Comments are moderated and generally will be posted if they are on-topic and not abusive.
For more information, please see our Comments FAQ