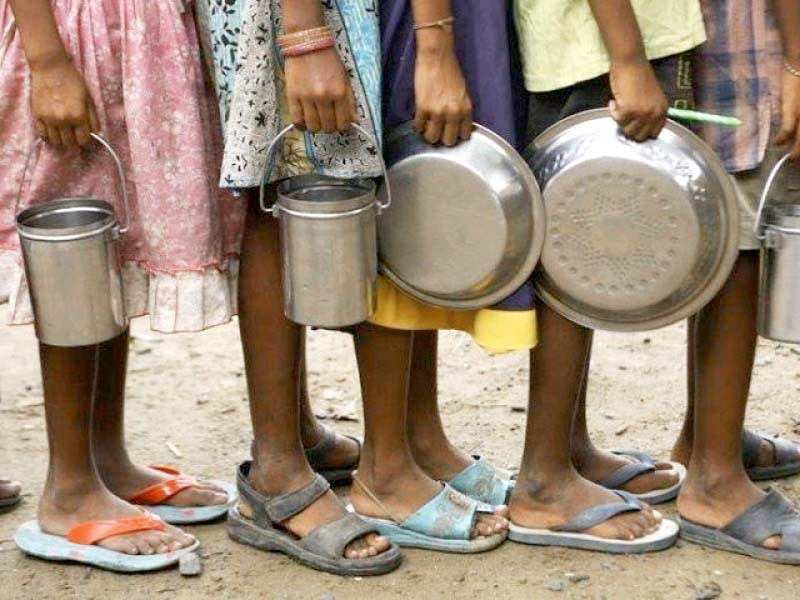 ---
KARACHI/LAHORE:
With the federal government showing all signs of buckling to the International Monetary Fund's (IMF) demands for a successful review, the inflation rate is expected to rise even further, which is bound to trigger further food insecurity and poverty.
The queues outside welfare organisations' centres providing free meals have already been getting longer for the past couple of months as people struggle to provide food for their families. Since the hike in fuel prices will not stop until the IMF is satisfied, with it will come a further increase in commodity and energy prices and the number of people visiting langars for a free meal or two.
Arif Lakhani, trustee of a welfare organisation, commenting on the prevalent food insecurity in the country, said that the purchasing power of the populace has been blown to smithereens due to the double-digit inflation. "We have witnessed a 35 to 40 per cent increase in the number of people visiting to get a free meal for themselves and their families at our langar khanas," Lakhani said.
Concurring with Lakhani's assessment, Chaudhary Shahid Hussain, Spokesperson for another welfare organisation, said that previously it was only beggars and the destitute which would visit their free meal centres but now everyone from daily-wage labourers to white-collar professionals was visiting on a daily basis.
One such visitor at a langar khana in Lahore was Fazal Deen, who works as a security guard for a private company. "I cannot afford to pay Rs100 to Rs150 per meal, three times a day. If I do so, then what money will I send to my daughter and wife?" lamented Deen.
Muhammad Ibrahim, who was standing in the same queue as Deen in a free meal centre in Gulberg, said that they have no other option besides coming to the langar. Ibrahim further said that recently he had noticed that many others were also stuck in the same boat as the queue had gotten longer. "If I do not come an hour before the centre opens then I have to go back empty-handed."
At a free meal centre in Karachi, Salim, a daily-wage labourer, had the same problem as Ibrahim. "I have to make sure to come on time otherwise I will have to go back home without food. I barely make Rs700 a day and cannot afford to put three meals on the table for my family of three with that money."
Similarly, Khaleda, a domestic worker, who was getting a meal packed for her family at a langar in another part of the city, said that she was thankful that these centres existed because otherwise her family would die of hunger.
However, with the queues getting longer and inflation expected to worsen, welfare organisations are also facing the financial crunch. "The expenses of our langars have increased two-fold due to the number of people visiting and commodity prices going up. Sooner or later the government will have to wake up and take control of the economy," said Haji Ahmad Raza, Secretary of a welfare organisation in Karachi.
Concurring with Raza, Lakhani, the trustee of a Karachi-based welfare organisation, said that operational expenses for langars had gone up by 60 to 70 per cent. "If the inflation rate increases any further and free meals are not provided, people will start fighting each other for food. Therefore, the government needs to act," Lakhani opined.
Dr Qais Aslam, an economist based in Lahore, agreeing with Lakhani, said that free meal centres were not a long-term solution for the current food insecurity and inflation levels. "Salaries have not increased but inflation has quadrupled. At this rate, the common man will soon wage a war against the government."
Former federal finance minister, Abdul Hafeez Pasha, concurring with Dr Aslam's views, opined that the government had wreaked havoc on the people, some of whom are devastated by the floods, by its economic mismanagement. "If the inflation rate touches 40 per cent then more than 20 million people will be pushed down the poverty line. The government needs to reduce its expenditure, impose taxes on the elite, and increase the subsidies on food items," suggested Pasha while talking to The Express Tribune.
COMMENTS
Comments are moderated and generally will be posted if they are on-topic and not abusive.
For more information, please see our Comments FAQ