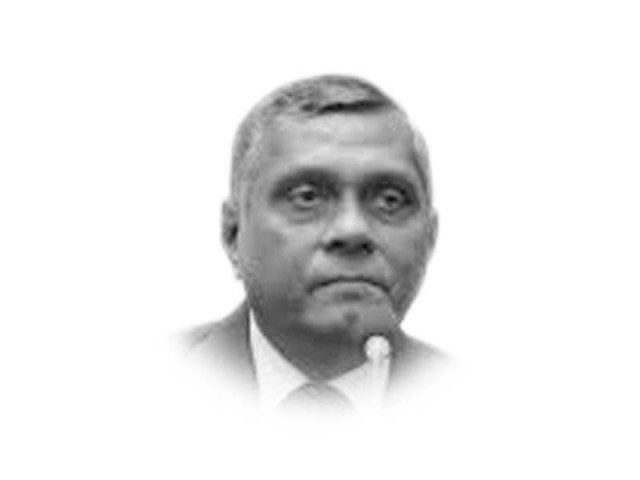 ---
While addressing 'PM Youth Loan Scheme for Business and Agriculture' in Islamabad the other day, Prime Minister Shehbaz Sharif vowed to sacrifice political interests in order to save the state of Pakistan. Declaring that his government would swallow the bitter pill of accepting IMF conditions for getting the loan programme revived, he said "people at the helm of affairs — the politicians and the rich — have to set an example as it is unfair to burden the poor with price hikes while the elites and government splurge loans."
The unabated loot and plunder along with corruption and nepotism by 'mafias' under the cover of democracy, parliament, national security and national interest not only degenerated the state of Pakistan but also shattered its economy. The political rhetoric of the successive Prime Ministers is far from reality because the 220 million people of Pakistan continue to reel from severe price hike, unemployment and shortage of electricity and gas. Can state institutions responsible for law enforcement cope with popular revolt against the unjust system catering to the elite and putting the entire burden on the masses?
Instead of taking steps for "saving politics", the PM must have focused on "saving people" because they are the ones who are paying the price of the failure of the state to manage the economy, provide security and ensuring essential utility services. When on January 23, Pakistan experienced an unprecedented power breakdown for around 24 hours because of criminal negligence of state authorities, it means the collapse of order and system. A government working to preserve its own affluence, privileges, perks and hold over power is solely responsible for the failure of the state to function in a normal manner. When 6,000 landowners pay as low as 3 billion rupees in agricultural tax while 220 million people pay more than 1 trillion rupees in the form of indirect taxes, like GST, then how can the country function in a normal manner?
With the foreign exchange reserves with the State Bank having fallen below four billion dollars; when the dollar is hardly available in the country for 275 rupees; and when the government is struggling to cater to even essential imports, the state cannot survive with dignity and honour. When the credibility of the state is under question; there is no let-up in corruption, nepotism, bad governance; and rule of law and accountability are non-existent, how can one expect the country not to compromise on its sovereignty and self-esteem? And when international lenders and 'friendly' countries are not so forthcoming as regards helping the government to avert a financial default, how much of a breather do we think we are left with? Yet, despite embarrassment and shame which this country is experiencing because of its failure to manage its economy, politics, governance, rule of law and infrastructure, there is no realisation on the part of the so-called custodians of Pakistan that their irresponsibility and negligence is fast transforming this country into a 'failing' and a 'failed' state.
Saving state, people and politics of Pakistan from an impending disaster will require three major structural changes at microeconomic and macroeconomic level.
First, there is a need to bridge the gap in income and expenditure by conserving financial resources. The so-called committee on suggesting 'austerity' measures set up by the Prime Minister may submit its recommendations to slash salaries, perks and privileges and reduce the size of government. however, it is likely to be a non-starter because those who matter don't want to render any sacrifice and are only interested in passing on the financial burden to common people. Since they continue with their lavish lifestyle, there is no indication that the country can avert an economic meltdown. What Pakistan requires is a paradigm shift in its leadership and needs people like Lee Kwan Yew, Mahathir Mohammad, Jawalarlal Nehru and Nelson Mandela who were selfless and had a strong character to deliver. When the leadership is corrupt, incompetent and power hungry, the country cannot be stopped from becoming a failed state. In the last five decades or so, the situation with the economy, politics, governance, rule of law and image of Pakistan abroad has turned so bad that it would be an uphill task for any new leadership to fix things.
Second, there is need to conserve resources, control expenditures, rationalise defence budget, maximise exports and curtail imports through drastic measures. Only a leadership with political will, determination, clarity and integrity can pull the country from the brink of disaster. The so-called austerity committee set up by Prime Minister Shehbaz is not a new attempt. We have taken measures in the past to conserve resources and arrest the culture of extravagance — but in vain. State-backed mafias involved in corruption and nepotism would not let Pakistan have a leadership which is honest, hardworking and brilliant and has a statesmanship approach. Amazingly, when there is no dearth of people in Pakistan who are capable of pulling the country from the prevailing crises, why are things not being improved? There is no doubt that our overseas workforce — numbering around 10 million — is a huge asset that can help bail the country out of the prevailing economic predicament. But unless power remains in the hands of those who are corrupt, dishonest and incompetent, nothing can be done to ameliorate things in Pakistan.
And finally, strategic decision-making, time management, accountability, ownership and focus on providing better education, governance, healthcare, housing, clean drinking water, transport and human security need to be prioritised if Pakistan is to be prevented from becoming a failed state. When decisions are devoid of truth, political realism and professionalism, the outcomes can be nothing else that disasters and debacles. All the major national tragedies — the assassination of Pakistan's first Prime Minister Liaquat Ali Khan on October 16, 1951 to the disintegration of Jinnah's Pakistan in December 1971, the imposition of Martial Law on July 5, 1977, the loss of Siachen Glacier in 1984, Ojhri camp disaster of April 1988, the Kargil misadventure of 1999 and annexation of Jammu & Kashmir by India on August 5, 2019 — reflect non-serious and non-professional handling of matters by those who at the helm of affairs. A failed state doesn't emerge overnight, rather it is a result of mishandling spanning years and decades. If Afghanistan, Somalia, Syria, Iraq, Libya and Yemen became failed states, it was the failure of successive governments to control things and prevent collapse of state institutions.
Time to effectively manage things in Pakistan is fast running out, and the situation threatens to cause irreparable damage to the country's very existence.
Published in The Express Tribune, January 31st, 2023.
Like Opinion & Editorial on Facebook, follow @ETOpEd on Twitter to receive all updates on all our daily pieces.
COMMENTS
Comments are moderated and generally will be posted if they are on-topic and not abusive.
For more information, please see our Comments FAQ