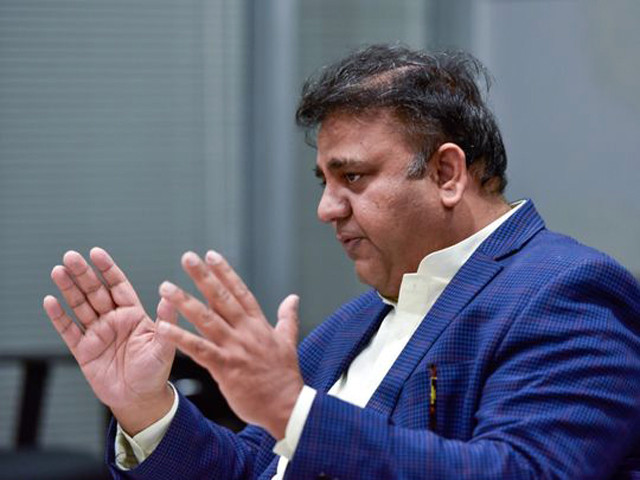 ---
ISLAMABAD:
PTI leader Fawad Chaudhry, who is in police custody on the charges of sedition, has an interesting journey -- from being a pragmatic politician to becoming a 'populist' one.
Fawad's family was in politics before Partition and his forefathers had played a vital role in Pakistan Movement.
Chaudhry Altaf Hussain, Fawad's uncle, was a Punjab governor during the tenure of slain PPP chairperson and then premier Benazir Bhutto's second government.
His other uncle, Justice Iftikhar Hussain Chaudhry, was the chief justice of the Lahore High Court from September 7, 2002, to December 12, 2007.
The PTI leader, who is a Supreme Court advocate by profession, was an active member of the All Pakistan Muslim League (APML) led by former military ruler Gen (retd) Pervez Musharraf.
Later, he joined the PPP and was appointed special assistant to prime ministers Yousuf Raza Gilani and Raja Pervez Ashraf.
Fawad was also close to former premier Gilani and his family.
However, he was not given a PPP ticket in the 2013 general elections. He contested those polls on a PML-Q ticket. Later, he rejoined the PPP. Fawad was among a few political leaders who were close to PPP Chairman Bilawal Bhutto-Zardari.
In the meantime, he entered the field of electronic media as a political analyst.
In 2016, when a by-election was held in Jehlum district, Fawad was reluctant to join the PTI because of his close association with Bilawal.
Eventually, he did opt for a PTI ticket for the by-election, wherein he secured around 80,000 votes.
Later, he was appointed as the PTI spokesperson on then senior party leader Jahangir Tareen's recommendation.
He even shifted from Lahore to Islamabad.
Subsequently, he grew closer to PTI Chairman Imran Khan.
In the 2018 general elections, Imran asked him to contest simultaneously as a member of the Punjab Assembly and an MNA and he won both the seats.
Fawad was also a strong candidate for the post of the Punjab chief minister after the 2018 elections. However, the PTI chief gave him the post of the federal information minister, only to change his portfolio later.
When Fawad was appointed the federal minister for science and technology, he questioned Punjab Chief Minister Usman Buzdar over his "poor" governance in the province.
However, then premier Imran was unhappy over his criticism of Buzdar and PM's adviser Firdous Ashiq Awan.
Fawad was among the few federal ministers, who were against the filing of a presidential reference against Justice Qazi Faez Isa.
He had expressed the apprehension that the move would backfire.
Imran again appointed him as the information minister. He remained on this slot until the removal of Imran from the post of the prime minister through a no-confidence resolution against him in April last year.
Political analyst Professor Tahir Malik believes that despite his association with a family which was involved in the politics of factionalism for several decades, Fawad was very popular among different segments of the society especially bar, media, and right activists because of his progressive and liberal thoughts.
He took a stance against religious extremism several times in the past in violation of his party's line.
Malik believed that Imran's style of politics was aggressive towards his political opponents.
Being the party's spokesperson, Fawad was compelled to take a hard line not only against political opponents, but the judiciary, 'powerful circles', media, bar, etc., too.
"You will only become relevant within the PTI until you promote Imran Khan's narrative in the media," Malik added.
Another political analyst said Fawad lost several friends in the media as well as the bar while following the line of Imran's politics.
However, he added that the 'powerful circles' should also think about the consequences of "giving a tough time" to the PTI leader.
The analyst said Fawad was among those politicians, who always believed that the 'powerful circles' were a reality in Pakistan and their views should be respected. He also urged Fawad to maintain a balance in politics.
Talking to The Express Tribune, former Pakistan Bar Council (PBC) vice chairmen Abid Saqi and Syed Amjad Shah condemned the arrest of Fawad.
Saqi termed his arrest as "political victimisation" while Shah urged Chief Justice of Pakistan Umar Ata Bandial to take notice of the "abuse" of the judicial process in the case.
Chaudhry Faisal, Fawad's brother, has also written a letter to CJP Bandial wherein he had expressed the apprehensions that 'the earlier episodes of custodial tortures" were most likely to occur in the case of the former federal information minister too.
Fawad's handwritten request has also been attached with this letter.
COMMENTS
Comments are moderated and generally will be posted if they are on-topic and not abusive.
For more information, please see our Comments FAQ