 ---
ISLAMABAD:
The Sikhs for Justice (SFJ) has announced that voting for the Australian chapter Khalistan independence referendum will be held at Federation Square in Melbourne on January 29.
Melbourne's Ravi Inder Singh, a representative of the Miri Piri Gurudwara (Sikh temple), told Australian media that the voting exercise, known as the Khalistan referendum, would be a significant step towards self-determination for millions of Sikhs around the world.
Australian Sikhs, along with millions of others around the world, will vote on January 29 in a referendum to establish a separate Sikh state in India, Australian Broadcasting Corporation (ABC) posted on its website.
Sikhs have faced increasing discrimination in India, especially with the growth of Hindu nationalism.
In 1984, thousands died in communal violence, after the assassination of then prime minister Indira Gandhi, it added.
Singh said the main goal of the referendum was to seek a consensus among Sikhs to establish a separate homeland within India and to determine the extent of the demand for this separatist state that would be known as Khalistan (land of the pure), SBS Punjabi, an Australian news outlet quoted him as saying.
Huge Turnout in Khalistan Referendum Car Rally Melbourne. 5KM Long Convoy heading towards CBD. Voting going to take place on January 29th at Federation sq pic.twitter.com/NlQTb8KVUx

— Jagdeep Singh (@JagdeepSingh_NY) January 15, 2023
The voting in the referendum, which started in October 2021, had so far been held in the UK, Switzerland, Italy and Canada.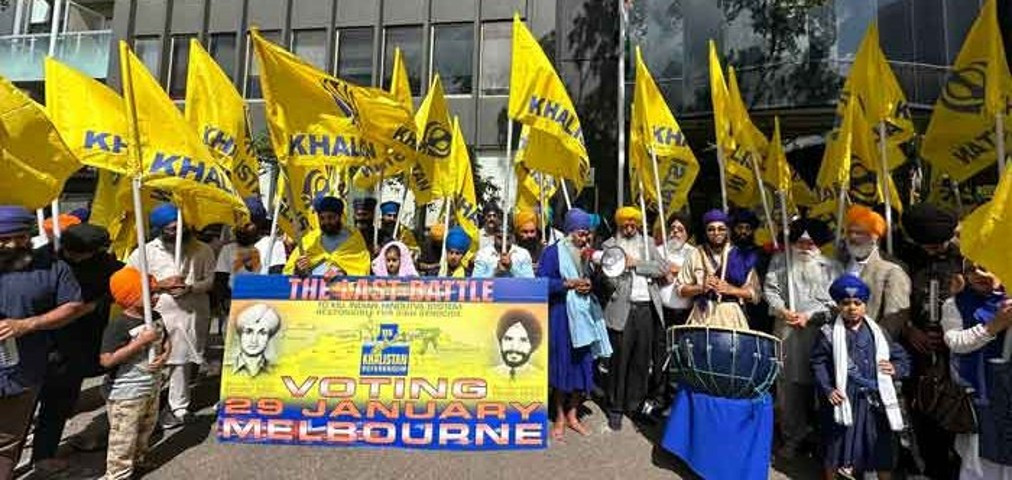 During a press conference in Melbourne on Wednesday, SFJ co-founder and general counsel Gurpatwant Singh Pannun said that the Indian government was trying to "criminalise" the attempt of Sikhs to demand a separate state.
They were calling the Khalistan referendum illegal and an act of terrorism, he added.
According to media reports, Australia is home to nearly 209,000 Sikhs, accounting for 0.8 per cent of the total population, and is the country's fifth largest and fastest-growing religious group, according to the 2021 census.
Commenting on the Khalistan referendum in Australia, the SBS quoted a spokesperson for the Department of Foreign Affairs and Trade (DFAT) said that Australia valued diversity and inclusion, respected the right of individuals to engage in peaceful protest and supported the non-violent expression of views.
About Khalistan, the SFJ had proposed that this would be achieved by carving out the north Indian state of Punjab, parts of Haryana and Himachal Pradesh, and several districts of Rajasthan and Uttar Pradesh.
COMMENTS
Comments are moderated and generally will be posted if they are on-topic and not abusive.
For more information, please see our Comments FAQ