 ---
Shah Rukh Khan's triumphant return to the big screen has been celebrated by his fans and peers alike. King Khan, who previously took a four-year-long hiatus from theatrical releases, smashed several records with his latest offering, Pathaan. The Siddharth Anand directorial stars Deepika Padukone and John Abraham in pivotal roles as well.
The film has crossed INR2 billion globally within the first three days of its release. According to The Economics Times, Khan's spy-thriller has minted INR2.19 billion, a new record for Hindi films, data provided by Yash Raj Films (YRF) on Friday showed.
While a bevy of Bollywood stars came out to congratulate Khan over Pathaan's unbelievable box office run, artists on this side of the border, too, shared their two cents. Anoushey Ashraf took to Instagram and heaped praises on King Khan. Penning a note, the famous RJ and host commented, "As much as people dislike him, as much as Pakistanis feel we shouldn't promote Bollywood, for me Shah Rukh Khan is a universal superstar."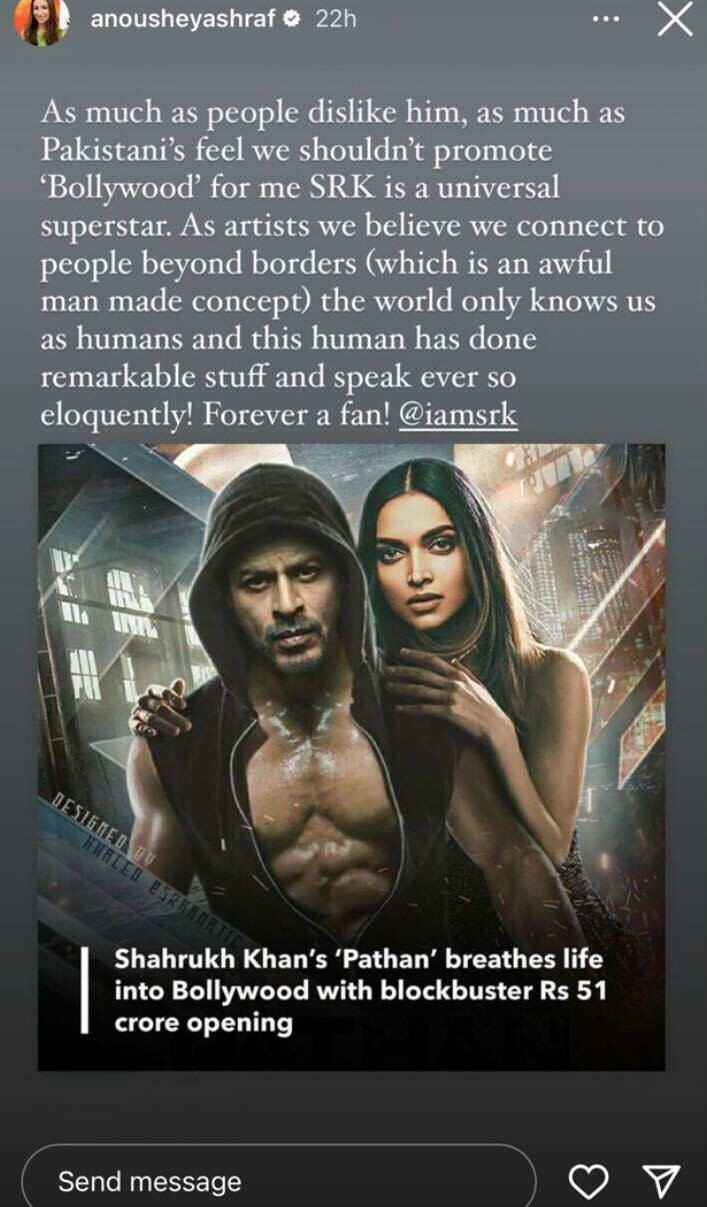 She went on to add, "As artists, we believe we connect to people beyond borders (which is an awful man-made concept), the world only knows us humans and this human has done remarkable stull and speak ever so eloquently." Ashraf ended her note with, "Forever a fan of Shah Rukh Khan!" Samina Peerzada tweeted, 'Bravo, Shah Rukh Khan and congratulations on winning love over hate."
Bravo SRK and congratulations on winning love over hate

— Samina Peerzada (@SaminaSays) January 27, 2023
Shaan Shahid, on the other hand, asked Khan to lend support to Indian Muslims. During a Q&A session on Twitter, held by the Bollywood star, the Zarrar actor commented, "The Muslims of India wait for the Pathaan." He went on to pen, "With power, comes responsibility." Shahid went on to claim that Khan is "more popular than Modi" He added, "India needs a new Prime Minister. A secular PM. Let the real hero come out. Secular India waits."
The Muslims of india wait for the Pathan ..with #power comes #responsability you are more popular than moodi …India needs a new pm . A secular pm Let the real hero come out .. the #secular india waits …

— Shaan Shahid (@mshaanshahid) January 24, 2023
The debate regarding 'secular India' was also highlighted by India's controversial actor, Kangana Ranaut recently. After watching Pathaan, the Queen actor hailed "secular India" to let Anand showcase "enemy Pakistan" in a positive light.
Her tweets were reportedly a retaliation to Karan Johar's Instagram post, where he celebrated the action thriller's phenomenal performance at the box office and wrote, "Love forever trumps hate." Taking to Twitter once again, Kangana claimed that the film's success was only due to "India's love and inclusiveness towards a film called Pathaan."
Now, former Pakistani actor Noor Bukhari has lashed out at Ranaut for her stance. "I actually used to like her," Bukhari shared on Instagram. She added while calling Ranaut a 'characterless woman', "But the hate she has shown for our country shows how small she is."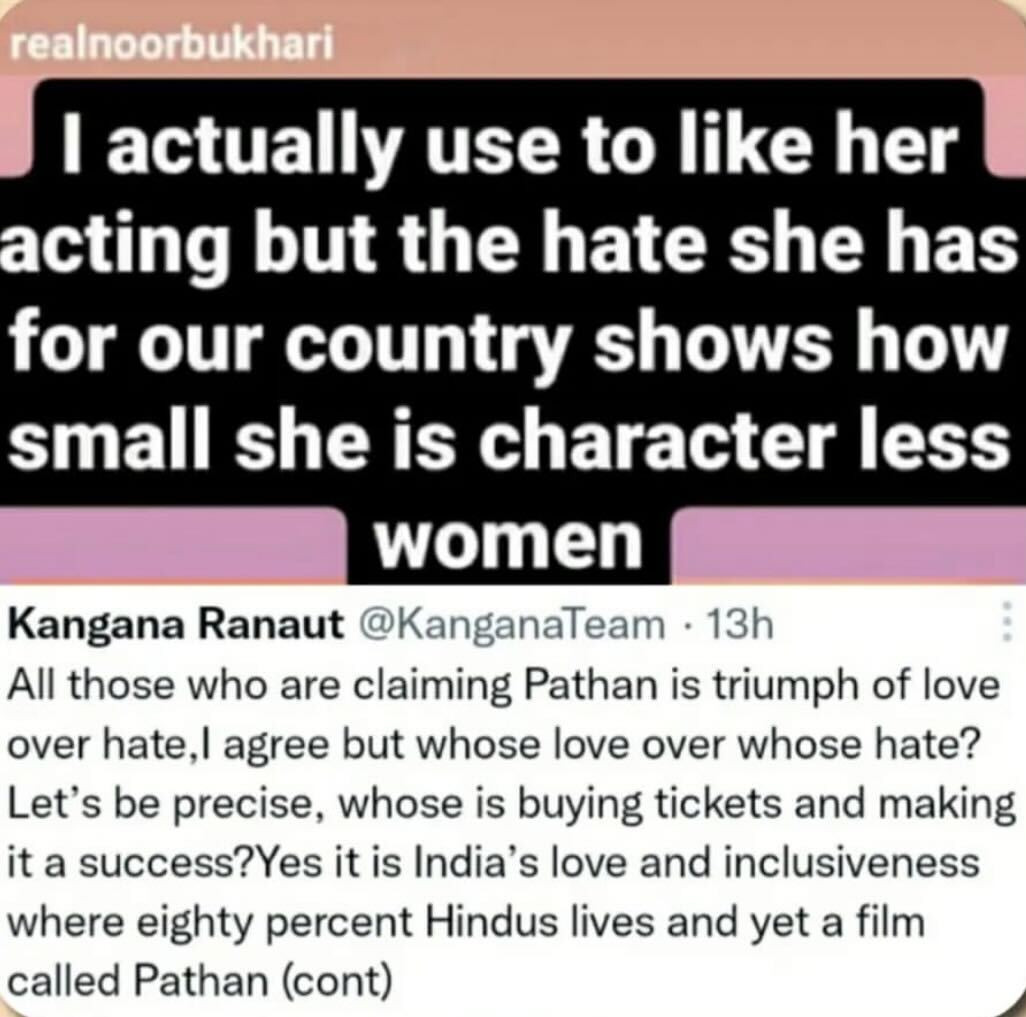 Previously, Atiqa Odho shared a picture of her encounter with Khan at the sets of Devdas in 2002. She also penned down a heartfelt message praising the superstar for his affectionate personality.
"Meeting Shah Rukh Khan on the Devdas set many years ago was such a pleasure. A celebrated film star whose humble, polite, caring and above all has roots and family in Peshawar with whom he stays in touch. Such a sweet and friendly person. I'm happy that his film Pathaan has done so well," wrote the veteran actor.
Before concluding her note, Odho then conveyed her disappointment at the political regulations that have created hurdles for artists in India and Pakistan. "I wish politics wouldn't restrict artists from working together as collaborative work would engage a larger global audience for both sides for sure," she shared.
About Pathaan's success
According to Pinkvilla, Pathaan has already broken 20 records of Indian film industry. YRF chief executive Akshaye Widhani said Pathaan's success is significant not just for the company, but also for the Hindi film industry at large.
"As an industry, we are rejoicing today. This is the most important sentiment emerging out of Pathaan's success," he said. "All of us at Yash Raj Films are grateful for the incredibly humbling support from the media, audiences, and the industry towards Pathaan. It is this unanimous love for the film that has resulted in Pathaan shattering all ll existing records and creating new ones."
Have something to add to the story? Share it in the comments below.
COMMENTS
Comments are moderated and generally will be posted if they are on-topic and not abusive.
For more information, please see our Comments FAQ