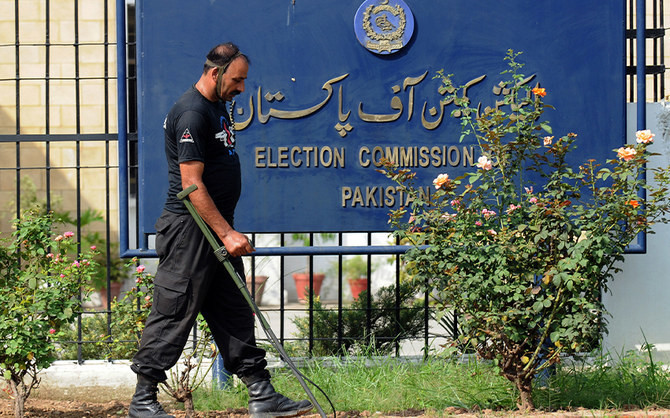 ---
ISLAMABAD:
By-elections on 33 National Assembly seats, which fell vacant after NA Speaker Raja Pervaiz Asraf accepted the resignations of the PTI lawmakers, will be held on March 16, the Election Commission of Pakistan (ECP) announced on Friday.
According to the schedule issued by the election watchdog, the returning officers (RO) would issue a public notice in this regard on February 3.
The nomination papers for the by-polls can be filed from February 6 to 8, while the names of the nominated candidates will be published on February 9, the body added in its notification.
The constituencies where by-elections will be held include: NA-04 Swat, NA-17 Haripur, NA-18 Swabi, NA-25 and NA-26 Nowshera, NA-32 Kohat, NA-38 Dera Ismail Khan, NA-43 Khyber, NA-52, 53, and NA-54 Islamabad, NA-57, 59, 60, 62 and NA-63 Rawalpindi, NA-67 Jhelum, NA-97 Bhakkar, NA-126 and NA-130 Lahore, NA-155 and NA-156 Multan, NA-191 Dera Ghazi Khan, NA-241, 242. 243, 244, 247, 250, 252, 254, and NA-256 Karachi and NA-265 Quetta.
The election watchdog said scrutiny of nomination papers will be held on February 9 while the election symbols will be allotted to the candidates on the 23rd of next month.
Read ECP de-notifies 43 PTI MNAs in one fell swoop
Earlier this month, the NA speaker accepted the resignations of 34 lawmakers belonging to the PTI and one member of the AML, in a bid to help Prime Minister Shehbaz Sharif secure the confidence vote recently announced by the party's chief Imran Khan.
Earlier, the PTI had challenged the "piecemeal acceptance" in the Islamabad High Court (IHC). However, the court had dismissed the petition on September 6, 2022.
Later, the PTI approached the Supreme Court, praying it to set aside the high court's order, contesting it was "vague, cursory, and against the law". A decision on the plea in the apex court is still pending.
A total of 123 PTI MNAs had resigned en masse on April 11 last year – two days after their party chairman was ousted as the prime minister through a no-confidence motion.
After dragging feet over the process for eight months, the NA speaker accepted the resignations of 34 PTI MNAs on January 17 and 35 MNAs on January 20, including Awami Muslim League chief Sheikh Rashid.
On January 25, the ECP de-notified 43 more PTI lawmakers after Ashraf accepted their resignations.
COMMENTS
Comments are moderated and generally will be posted if they are on-topic and not abusive.
For more information, please see our Comments FAQ